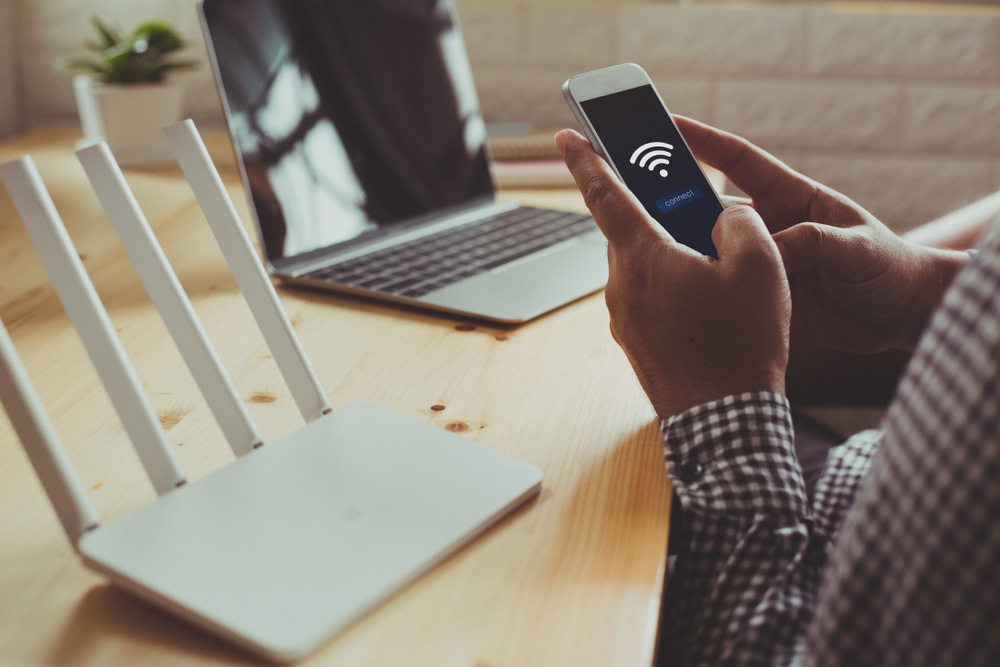 Most of the UK now have some form of broadband connection in their homes. However, mobile broadband is also popular, both as a backup or alternative to home broadband as well as a useful resource for getting online when we're not at home.
With The Money Pig, you can find mobile broadband deals to suit your budget and your needs.
Let's look at how mobile broadband works in the UK and what you should consider if shopping around for these services.
What is Mobile Broadband?
Most people get their home broadband via fibre optic and copper cables that deliver the services to their homes. According to Ofcom, fibre broadband is available for 96% of UK households, with 88% of those homes receiving fibre to the cabinet (FTTC) services. This means broadband is delivered to a local internet exchange via fibre optic cables, then into your home via copper cables.
In contrast, mobile broadband allows you to get online wirelessly. It works in the same way as mobile data networks do. While your smartphone uses 3G, 4G, or 5G when you need to get online without a WiFi connection, mobile broadband uses these connections to give you internet access on other devices.
Whenever you sign up to these services, you'll get a mobile broadband SIM, but there are a few different ways you can use them depending on your needs and the device you're using.
Inbuilt SIM's
You'll be familiar with a SIM card that you put in your mobile phone. Inbuilt SIM's for mobile broadband work in the same way, except that they go in your tablet device or laptop. As you can't make calls from these devices, you need a data-only SIM deal. You can buy a regular SIM with calls and SMS messages included, but you'd be wasting your money.
Dongle Devices
If your laptop doesn't have a SIM slot, it should have at least one USB port. Therefore, you can insert a SIM into a dongle device, which you then place into the USB port, giving you mobile broadband access. One great benefit of dongles is that you can plug them into any device with a USB port. This means you can use them to access the internet on desktop PC's, smart TV's, and other devices if you need to.
Check out The Money Pig's guide to finding great dongle plans.
Mobile WiFi Hotspots
Another possibility is a mobile WiFi hotspot. You might have seen these called MiFi by some providers. These work like a router in a traditional home broadband setup. You can find WiFi hotspots that you plug into the power at home, but instead of having wired broadband, you get it wirelessly. Three provides home broadband services in this manner.
It is also possible to buy mobile WiFi hotspots that run on a battery. You charge it as you would your smartphone and switch it on wherever you are to get online.
If you need a mobile broadband solution and have a smartphone contract with a high data allowance, you might be able to do without a separate service. Use your smartphone as a hotspot instead!
Why Take Out Mobile Broadband?
There are several reasons why it might be worthwhile to consider a mobile broadband service.
If You Live in a Rural Area
If you live in a rural area, you might be outside of the 96% of households who can receive superfast broadband. Even if you can receive fibre broadband, if the nearest internet exchange cabinet is in another town a few miles away, you are still likely to find speeds are slow.
In contrast, if you can get 4G coverage in your area, you may find this to be quicker and more reliable than whatever broadband speeds you're able to receive.
If You Want Flexibility
Mobile broadband is ideal if you need to work on the go. With a mobile broadband package, if you want to go and work in the garden or the park, it's easy to do so, especially if you have a laptop with a SIM slot.
Having a mobile broadband plan also means you don't have to rely on public WiFi, which can be slow, unreliable, and insecure.
Remember to Check Whether You Can Actually Get Mobile Broadband
While mobile broadband is theoretically available to everyone, you should check before you invest in a portable WiFi device or commit yourself to a contract.
How quick and reliable is your mobile data signal at home, or outside around your local area? If it's slow, then mobile broadband is likely to deliver the same performance.
Is Mobile Broadband Right for You?
Beware that most mobile broadband packages still come with data caps. Unlike most home broadband deals, you usually won't have unlimited data or downloads with a mobile broadband plan. However, if you're happy to spend more on a mobile broadband package, you may be able to find excellent unlimited data packages from some providers.
You should also note that, again, unlike fixed-line home broadband, you will usually not get speed guarantees with mobile broadband. Ensure you check the data signal where you live and are sure mobile broadband is right for you before you commit to a contract!
How is Mobile Broadband Delivered?
Mobile broadband uses 3G, 4G, and 5G data signals in the same may mobile phones do. As such, if you're looking for mobile broadband, you'll usually need to get it from a provider that also offers mobile phone deals.
Due to the wireless delivery method, mobile broadband speeds can be inconsistent. For example, if you can access the 4G network, this will be quicker than 3G. At the same time, speeds on 4G may range from 10MB – equivalent to standard broadband – to 30MB, which is equal to superfast broadband speed.
Is 5G Mobile Broadband Available in the UK?
Yes.
If a mobile network is offering 5G data plans, then you can access 5G mobile broadband. However, you will need to ensure the device you plan to use for going online can receive 5G signals. In the short-term, this may mean you need to buy a new device if you want to access 5G mobile broadband speeds.
As with mobile data signals, the quality of 5G connections may vary wildly, particularly in the earlier stages of the rollout. If you're able to get a clear 5G connection, then you will be able to get mobile broadband speeds of far above 100MB. However, until 5G is available where you live, you will be reliant on the slower 4G or 3G networks, although you should remember that clear 4G connections will give you the equivalent of superfast fixed-line broadband.
Which Broadband Providers Offer Mobile Broadband?
In the UK, mobile broadband is available from mobile networks. It's worth noting that you usually need to go to one of the leading mobile network providers, and not a provider such as Tesco Mobile who provide their services in conjunction with one of the leading networks.
Compare mobile broadband at The Money Pig today!