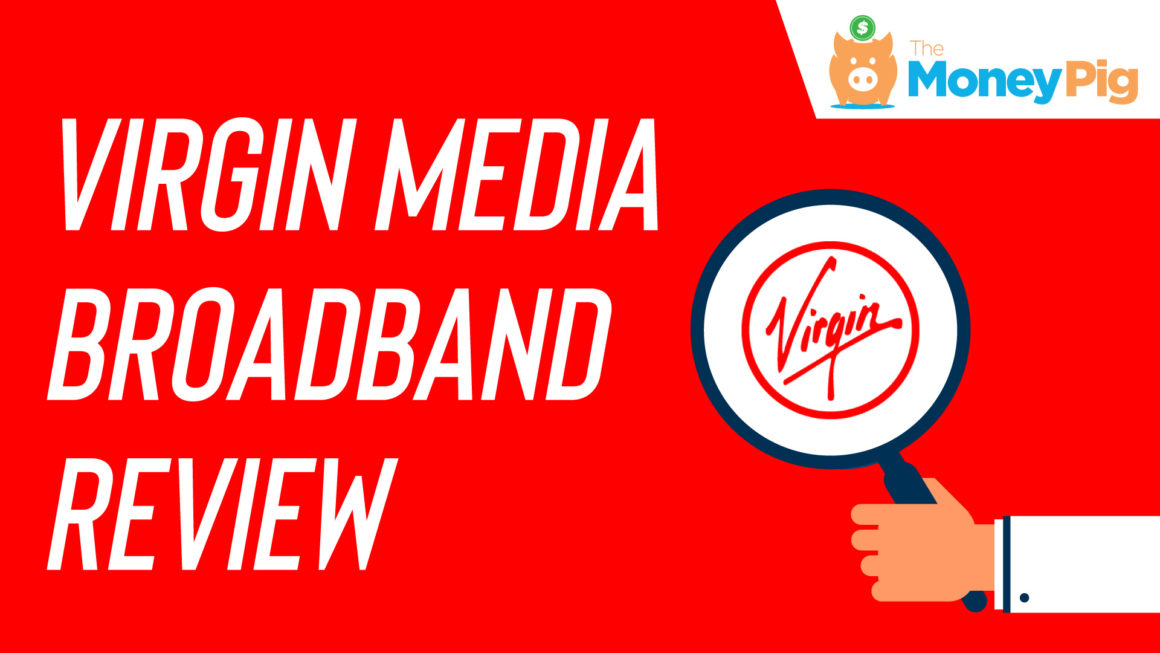 Virgin Broadband
Virgin Media's broadband page makes some big claims about its services.
The main tagline is that Virgin Broadband is where "Superfast Broadband Meets Intelligent WiFi", with intelligent WiFi apparently meaning that it self-diagnoses and fixes service issues.
It then goes on, claiming, "Our fastest widely available average broadband speeds are 5x quicker than Sky and BT's."
What Broadband Speeds Does Virgin Media Offer?
Those are big claims to make, but on the surface at least, Virgin Media appears to back them up. With the exception of Vodafone, who are in the process of rolling out their "gigafast" packages across the United Kingdom, the broadband speeds offered by Virgin Media are way ahead of other competitors in the market, particularly if you want "ultrafast" broadband rather than basic or "superfast" services.
As of March 2020, there are effectively two tiers of Virgin Media broadband.
Virgin Media's main broadband offering covers services offering average download speeds of 54MB, 108MB, 213MB, and 362MB. These services are called M50, M100, M200, and M350.
Its higher speed offering includes the M200 and M350 packages, but also offers a 516MB service, called M500, and a 1.104MB service, labelled as Gig1.
Customers can only get the M500 service as part of a Virgin Media bundle, therefore this will not be included in our speed and pricing comparisons later in this guide.
The most notable thing about the broadband speeds offered by Virgin Media is the lack of a basic broadband service at the 10MB or 33MB levels, which are popular across the UK. If you're looking for a basic broadband package, then Virgin Media won't be for you. Try Plusnet or Sky Broadband instead.
If you want to compare across all broadband deals in one simple table. Check out our Broadband Deals page
Virgin Media Broadband Speeds
Due to a ruling from the Advertising Standards Authority that came into effect in May 2018, internet service providers (ISP's) in the United Kingdom are now required to advertise average speeds on the basis of what at least half of their customers can receive at peak times. Prior to this ruling, ISP's could advertise higher headline speeds, so long as only 10% of customers were being provided with such a speed.
Although this ruling means the advertised speeds you see when looking for your ideal broadband package are more accurate, the speed you can receive, and use, depends on several variables. Use a broadband speed checker to get an even more accurate idea of the internet speeds you can expect to receive, from Sky or any other provider.
Throughout this guide, we may feature tables from Ofcom's latest home broadband performance research. This was conducted in November 2018 and published in May 2019, so does not include some newer tiers and services that have been launched by UK ISP's since then. The research was also based on the findings of a selection of panellists, and in some cases, there weren't enough Virgin Media customers at certain tiers to gather comparable data against other ISP's.
Can Anyone Get Virgin Media Broadband?
Due to the way Virgin Media delivers its broadband and other services such as TV and landline telephone, it's not available to everyone across the UK. Typically, it is rural areas where Virgin Media has not yet laid fibre optic cables and so it is these areas that cannot receive its services. Virgin Media owns and uses its own cable network, rather than running on BT cables like most of the other UK ISP's do. It is estimated that Virgin Media broadband and other services are available in around 60% of homes in the UK.
The Virgin Media website does feature a postcode checker so you can see what services you can receive. If Virgin Media broadband is currently unavailable in your location, you can submit your email address to receive updates if and when this and other services become available.
While you will require a landline to receive Virgin Media broadband, you do not have to take out a landline package with Virgin Media and are able to take just broadband if you wish.
How do Virgin Media Broadband Speeds Compare with Others?
Due to the relatively low availability of Virgin Media across the UK – only being available in 60% of homes as opposed to the 90% – 95% coverage offered by the likes of BT and Sky – there is little data available either from Ofcom's latest research or elsewhere that measures how Virgin Media stacks up against its advertised speeds.
Ofcom did manage to make a comparison of Virgin Media's M50/54MB package against other UK ISP's 36MB services, the results of which are outlined in the table below.
| ISP | Advertised Average Speed | Performance range over a 24-hour period | Performance range at peak times (8pm – 10pm, weekdays) |
| --- | --- | --- | --- |
| Plusnet | 36MB | 31.4MB – 33.1MB | 31.0MB – 32.8MB |
| EE | 36MB | 32.5MB – 34.8MB | 32.2MB – 34.5MB |
| Sky | 36MB | 32.3MB – 34.2MB | 32.0MB – 34.0MB |
| BT | 36MB | 26.6MB – 29.2MB | 26.5MB – 29.0MB |
| TalkTalk | 38MB | 31.6MB – 33.6MB | 31.4MB – 33.4MB |
| BT | 50MB | 45.6MB – 47.2MB | 45.2MB – 46.9MB |
| Virgin Media | 54MB | 54.0MB – 54.5MB | 53.5MB – 54.3MB |
As we can see from the table, while there is not a direct comparison in terms of a like for like service being offered, Virgin Media was the only ISP to actually hit its advertised average speed at all, let alone exceed it.
Ofcom also provided the following testing data for ultrafast broadband services, although as BT were the only other ISP offering ultrafast speeds, they are the only other company in the comparison.
| ISP | Advertised Average Speed | Performance range over a 24-hour period | Performance range at peak times (8pm – 10pm, weekdays) |
| --- | --- | --- | --- |
| Virgin Media | 108MB | 106.0MB to 107.9MB | 105.0MB to 107.3MB |
| BT | 145MB | 145.5MB to 148.1MB | 145.0MB to 148.0MB |
| Virgin Media | 213MB | 205.5MB to 210.3MB | 201.1MB to 207.0MB |
| BT | 300MB | 300.5MB to 304.1MB | 298.0MB to 303.2MB |
| Virgin Media | 362MB | 361.8MB to 368.2MB | 356.0MB to 364.3MB |
As we can see, Virgin Media doesn't quite hit its speed promises at the 108MB and 213MB speeds, but at the 362MB speed it does so comfortably.
On the flipside of its excellent download speeds, Virgin Media does lag on upload speeds. Typically, Virgin Media advertises upload speeds at just under 10% of the advertised average download speed, but as the chart below indicates, it struggles to hit this and is way behind what competitors can deliver.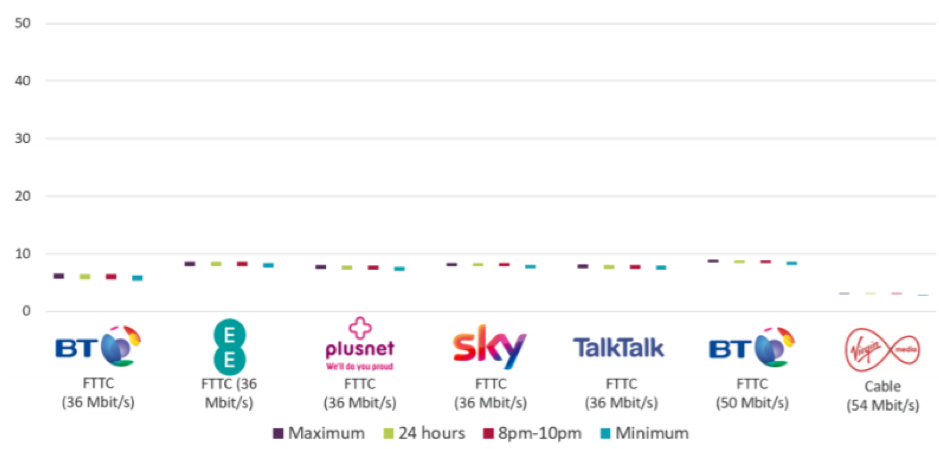 The chart below highlights Virgin Media's upload performance for its ultrafast broadband packages.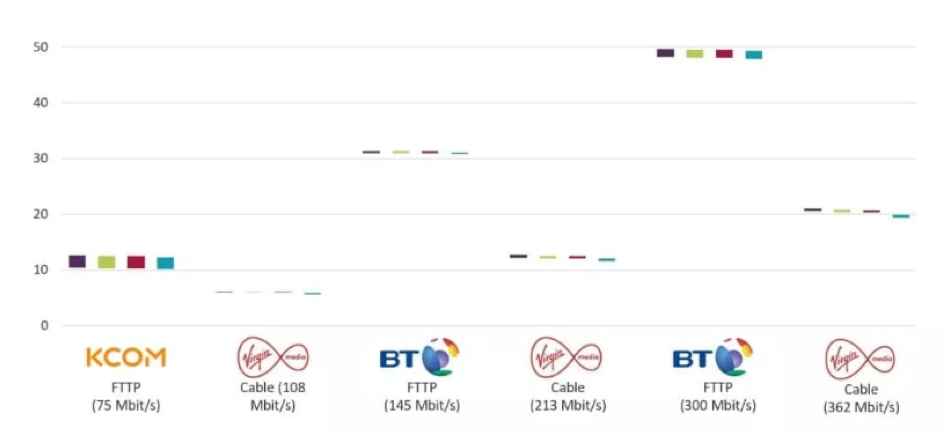 If upload speeds are important to you, then you will need to decide if slower uploads are worth the trade off for faster download performance, although if you opt for an ultrafast package such as the M200, you'll be getting faster uploads by default anyway.
Virgin Media Broadband Deals
Virgin Media does not typically offer sign-up incentives and offers to new customers. If it does, then these tend to be focused on bundle deals – where you take out a TV, landline, and broadband package – rather than for standalone services.
However, Virgin Media does offer a range of different pricing options on its website. These can be quite confusing from a customer perspective, as there are multiple ways to get to what is supposedly the same product on the Virgin Media website.
It appears at present that Virgin Media is placing a lot of focus on what it calls its "Oomph" bundles. If you're just looking for broadband, then the option to "Oomph It" typically offers either a 2GB or 5GB data SIM for your smartphone, which includes unlimited call time minutes and texts also. To avoid confusing you as much as we confused ourselves when trying to work out what the best Virgin Media broadband deal actually is, the deals below highlights the main offers at the time of writing on their main broadband page. Depending on the promotions Virgin Media is running at the time, you may be able to get better pricing from this page, particularly if you "Oomph It".
While the Virgin Media website can be confusing if you manage to make your way to the different pages, when you stick to one page at least the pricing is a little clearer. From the M50 to the M350 packages, an extra £5 a month takes you up to the next tier.
That's easy enough to understand!
How Does Virgin Media's Broadband Pricing Compare to Competitors?
In the same way that speed comparisons for Virgin Media broadband are difficult, it's tough to compare pricing given where its M50 service sits in the market.
To give you the best possible picture of how Virgin Media broadband pricing and advertised average speeds compares to other UK ISP's, we've included the M50 service in the below table with ISP's who offer services at 36MB and 63MB.
| ISP | Package | Advertised Average Speed | Contract Terms | Upfront Payment | Monthly Payment |
| --- | --- | --- | --- | --- | --- |
| Vodafone | Superfast 1 | 35MB | 18 months | Free | £21.95 |
| Plusnet | Unlimited Fibre | 36MB | 18 months | Free | £22.99 for 18 months, then £39.48 |
| EE | Fibre | 36MB | 18 months | Free | £24 for 18 months, then £37 |
| Now Broadband | Fab Fibre | 36MB | 12 months | Free | £25 a month for 12 months, then £35.99 |
| TalkTalk | Faster Fibre | 38MB | 18 months | Free | £22.45 for 18 months, then £36 |
| Virgin Media | M500 | 54MB | 12 months | £35 | £28 a month for 12 months, then £44 |
| Sky | Broadband Superfast | 59MB | 18 months | £19.95 | £27 for 18 months, then £32 |
| Vodafone | Superfast 2 | 63MB | 18 months | Free | £23.95 |
| Plusnet | Unlimited Fibre Extra + Line only | 66MB | 18 months | Free | £26.99 for 18 months, then £40.98 |
| TalkTalk | Superfast Fibre | 67MB | 18 months | Free | £24.95 for 18 months, then £41 |
| EE | Fibre Plus | 67MB | 18 months | Free | £28 for 18 months, then £42 |
| BT | Superfast Fibre 2 | 67MB | 24 months | £9.99 | £34.99 for 24 months, then £47.99 |
| Now | Super Fibre | 63MB | 12 months | Free | £30 a month for 12 months, then £43.99 |
As we can see from the table, Virgin Media's broadband pricing, even without the £35 setup fee, is not competitive against ISP's advertising faster speeds. However, we have already seen that Virgin does at least deliver the speeds it says it will, which not all competitors do.
The table below highlights how Virgin Media's broadband pricing compares at faster speeds. Due to the relatively low number of ISP's offering such packages, we have included everything in one place. Virgin Media's M500 package is not included as it is only available as part of a bundle deal and not as standalone service.
ISP
Package
Advertised Average Speed
Contract Terms
Upfront Payment
Monthly Payment
Vodafone
Gigafast Broadband 100
100MB
18 months
Free
£28
Virgin Media
M100 Fibre Broadband
108MB
12 months
Free
£33 for 12 months, then £49
Sky
Ultrafast
145MB
18 months
£39.95
£39
Zen Internet
Unlimited Fibre 3 + Line Only
145MB
12 months
£55
£49.99
BT
Ultrafast Fibre 100
145MB
24 months
£9.99
£39.99 for 24 months, then £47.99
EE
Fibre Max 1
145MB
18 months
Free
£36 a month for 18 months, then £49
Virgin Media
M200 Fibre Broadband
216MB
12 months
£35
£38 a month for 12 months, then £54
BT
Ultrafast Fibre 250
300MB
24 months
£9.99
£49.99 for 24 months,
then £64.99
EE
Fibre Max 2
300MB
18 months
Free
£43 a month for 18 months, then £54
Virgin Media
M350 Fibre Broadband
362MB
12 months
Free
£43 for 12 months, then £59
Vodafone
Gigafast Broadband 500
500MB
18 months
Free
£38
Vodafone
Gigafast Broadband 900
900MB
18 months
Free
£48
Virgin Media
Gig1 Fibre
1.104MB
18 months
£35
£62 per month. Price after 12 months currently unknown but will be £78 per month if the same pricing trend is applied.
As with Virgin Media's slower package, the pricing of its faster packages is uncompetitive. However, it is likely that Virgin Media will earn market share through being one of the few companies that is actually able to deliver such broadband speeds, and their high pricing is also likely a deliberate strategy to make both their "Oomph" deals, as well as their larger bundles that incorporate TV subscriptions and landline telephone, more attractive by way of offering larger savings.
Virgin Media Customer Service Performance
While Virgin Media performs above average in terms of customer satisfaction, it's one of the most complained about companies according to Ofcom data, although the number of complaints it receives is below the industry average.
How Virgin Media stacked up against its competitors from a customer service perspective is highlighted in the below table from Ofcom's November 2018 research.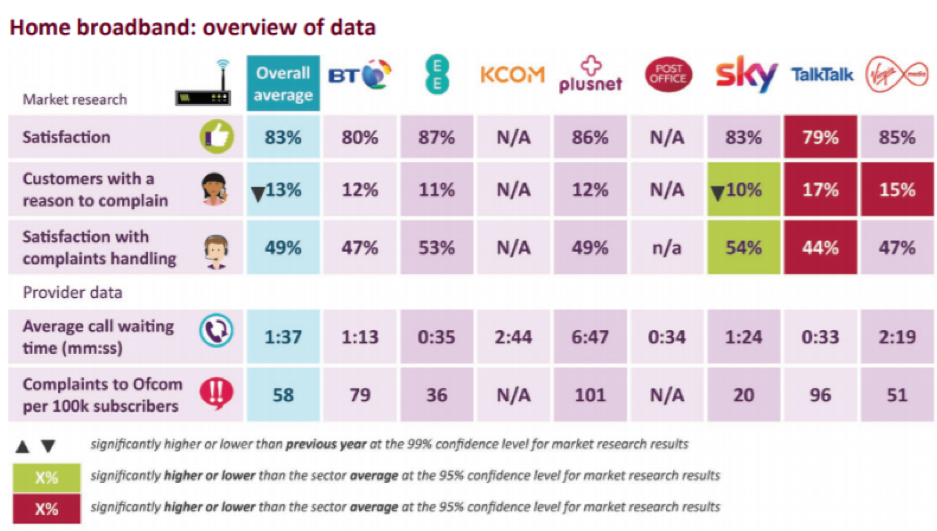 In addition to the chart above, it should be noted that Virgin Media is rated as "Bad" based on customer reviews on Trustpilot, although these ratings are for all Virgin Media's services, and not exclusively for broadband. You can view the latest Virgin Media Trustpilot reviews for yourself here.
Virgin Media customers can contact the company:
On Twitter, @virginmedia.
Via the Virgin Media website, where you will be taken through a flow of questions aimed at getting you to the right place to resolve your issue.
Summing Up Virgin Media Broadband
Virgin Media broadband very much appears to be a mixed bag.
If you want some of the fastest broadband services available in the UK, then Virgin Media is one of your only options. Where we've been able to make comparisons, they delivered the speeds they said they would, being the only ISP to do so.
At the same time, trying to make sense of their deals and pricing on their website can be confusing, and their recent customer service record since the latest Ofcom research doesn't appear to be great.
If you choose Virgin Media for your broadband, make sure you're clear on the price you're going to pay and the broadband speed that you're looking for.