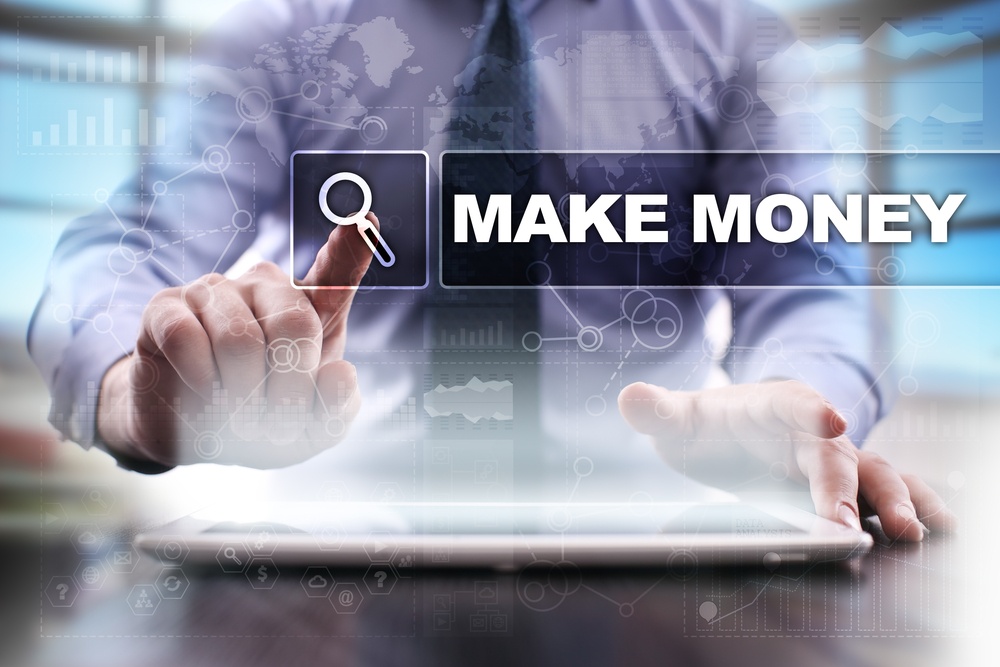 How To Make Money Free And Fast
From FREE bets to online surveys, we look at 10 ways to stack your cash
Need some extra money but don't have any money to spare? Don't worry, in today's world, it's easier than ever to make money out of nothing, without having to invest any amount of money whatsoever.
In this article, we'll discuss the different ways on how you too can make money online for free! Now of course, nobody will give you free money for no reason at all, because after all, time is money. But what I mean is, you don't need to invest money, you can simple answer a few questions online (surveys) and you will get some money fast or use free bets to earn fast cash. Ok, let's take a look.
1. Try Out Online Survey Sites
Online survey sites are some of the easiest ways to earn money without having to shell out any.
LEARN MORE: THE BEST SURVEYS SITES ON THE INTERNET
True to their name, these sites often require users to accomplish surveys in order to earn money, or whatever equivalent currency there is inside the site. Many don't even limit themselves to just surveys. Other survey sites also give users the option to do a whole host of other things, like playing games, watching ad-littered videos, and doing small tasks.
Take Swagbucks, for example. This online survey site pays its users Swagbucks (SBs) for every little activity they do on the site. Users can earn SBs not just by completing surveys and watching videos, but also by searching on the World Wide Web, among other things. If user shops from partner retailers through the Swagbucks website, they can even earn points for every purchase. The SBs can then be redeemed in two ways: cash and gift cards. If the user chooses gift cards, they will then be given the chance to choose from over 1,500 stores including Starbucks and Amazon. If they choose cash, however, they can then withdraw it to their PayPal account before transferring them to their bank account.
2. Sell E-Books
If you think about it, selling digital content or media like eBooks is actually quite brilliant, especially in today's increasingly digital world.
Unlike physical products, eBooks don't require much to start. You don't need to find a place to stock up your inventory, nor will you need to worry about possible logistic issues that can come up. You also don't need to worry about pitching to publishers anymore, who may or may not like your book and end up publishing it. Anyone can self-publish their own eBooks now and sell them on Amazon or other online platforms.
Sure, it's going to be a tough world out there since you're going to have to market yourself on your own, but it's doable. Many have already done it before and many will continue doing it. Of course, if you don't know how to write, you can always hire a ghostwriter to do it for you. However, that already requires some start-up capital, which is not the focus of this article.
3. Start A Blog
Starting a blog is one of the most popular ways to earn money in today's day and age. Although becoming a full-time blogger does require a minimal amount of start-up capital, it's also true that you don't need any money to actually start a blog. All you need to start a blog is a platform, good photos, and decent writing skills.
LEARN MORE: HOW TO START A BLOG (STEP-BY-STEP)
Decent writing skills are the most important part, as you'll need them to even attempt to thrive in the blogging community. There are already hundreds and thousands of bloggers out there and you're going to have to learn how to properly angle yourself in order to stand out. However, a lot of websites outsource their writing to freelancers, but this obviously would involve a small cost. Usually around $35 for 1,000 words. As for good photos, they're essential if you want to effectively grab the attention of your audience. Luckily, you don't even have to take the photos yourself. There are many royalty-free photo websites out there that allow people to use their photos for free, such as Pixabay.
Last but definitely not least, you'll also need a good platform to host your content. One of the best free online blogging platforms today is WordPress, it's what we use here at The money Pig and it offers everything from free themes to a very supportive blogging community.
4. Create A YouTube Channel
In a world where smartphones can now outperform even the last decade's best digital cameras, it's no surprise that everyone and their grandmother is already starting their own YouTube channel.
For one, all you need is a camera and a half-decent personality. Two, there's absolutely no need to shell out any money, at least not until you need to upgrade your filming gear, but that usually comes after you get thousands of subscribers and ad income anyway.
If you want to start your own YouTube channel, you first have to ask yourself these three questions: What topic am I most interested in? How can I make this topic entertaining or informative? Am I camera-shy?
The reason why these questions are important is that they will be the basis, pretty much the foundation, of how you'll start your own channel. Let's say you're a camera-shy person who's interested in all things horror. That's a good topic, as there are lots of dedicated horror fans out there. Now, do you want to be informative or entertaining? Maybe you want to be full-on scary, after all, that's good entertainment that any horror fan would love. And if you're camera-shy, then perhaps you can just create videos that show scary stories with scary music in the background. Add in some jump-scares here and there, maybe, and you've got a solid horror channel.
Of course, it gets easier if you're not camera shy. You could start your own beauty vlog and film yourself while doing your usual make-up. Or perhaps you may choose to start a travel vlog and document yourself as your jump off cliffs and ride boats into the sunset. You could start a personal vlog and just take videos of yourself as you go through your daily life. The sky's the limit, especially when it comes to creating YouTube content.
There's 3 ways Youtuber's will make their money. One via Ad revenue, based on how many people watch their videos.And secondly via affiliate marketing, whereby they recommend other products or services in return for a small amount of commission. Or thirdly, by building a traffic base and sending them to your own products, may it be a make up course, a sprinting drills course or fitness programs.
5. Make Money With Free Bets (UK)
The basic premise is that the majority of bookmakers will give you a FREE bet up to sign up with their company. You can use our matched betting calculator, to test out how much you will make from the free bet, before you dive in. It's a super simple concept and one of my most recommended ways to reel some free money in to your bank account.
LEARN MORE: HOW TO MAKE MONEY WITH RISK FREE MATCHED BETTING (UK)
A few examples of some great free bets at the moment include Bet365, William Hill, Coral and Ladbrokes. But there are tons of site, we have an updated page dedicated to FREE BETS that you can check out and earn some really easy free money.
6. Start A Twitch Stream
Many people incorrectly see Twitch as a YouTube copycat, but while the two sites are similar in many regards – both make use of video content, both are used by vloggers, both are focused on promoting an engaged audience for individual channels – the truth of the matter is that they're still two very different platforms.
For one, Twitch focuses mainly on live streaming, which is different from YouTube's cut and edited content. This is why the niches that are seen on Twitch are usually vastly different than YouTube. For example, while many beauty and travel vlogs, documentaries, and music videos are popular on YouTube, Twitch is the preferred platform for gamers who like showcasing their gaming prowess and unique playstyles on live camera.
How one earns money on either site is also quite different. On YouTube, most people earn by creating videos that generate a lot of ad revenue. That's why clickbait titles are so common on YouTube – you need to get people to click on your video and watch a portion of it before you can get lots of income.
On Twitch, maintaining an enjoyable/entertaining/awesome performance and encouraging a friendly community are more important than thinking up of clickbait. That's because many Twitch streamers rely on 'tips', basically donations from fans that like your streams, and paid subscriptions, which streamers don't get unless they've got solid content. Streamers also get sponsorship for brands who pay them on a per-hour or per-stream basis, so maintaining a good stream at all times is more important for aspiring Twitch streamers.
7. Do Affiliate Marketing
Affiliate marketing isn't actually a new thing, be it online or in the real world. Online though, knowing how to do affiliate marketing opens up a whole new world of opportunities.
Successful affiliate marketing can be done in many ways, and it doesn't have to be a standalone earning strategy either. For example, if you have a blog, especially a popular, high-traffic one, you can do affiliate marketing by incorporating your partner merchants' referral links in your content. It doesn't even have to be a blog. You can also incorporate affiliate links in your YouTube videos, your Twitch streams, your Instagram posts, anything, really.
Let's say you have a referral link for a tech gadget, like a camera or a gaming console. You could create a product review or a product comparison, or you could just mention it in passing in a related article. Regardless of how you want to feature the referral link, the important part is that you showcase it in your content. Now, anytime someone clicks on the link and purchases an item, you'll receive a small amount of money for your efforts, money that adds up in the long run.
Many beginners don't take affiliate marketing seriously, but in reality, affiliate marketing takes up a huge chunk of many popular bloggers' and vloggers' regular income. Financial blogger Yaro Starak from former Entrepreneurs-Journey.com earns over $40,000 a month on affiliate marketing alone.
8. Become a freelancer
All of these are good ideas, but aside from doing online survey sites, they also require you to take the role of a beginner entrepreneur.
If you don't feel confident in your skills yet or if you don't have much time to spare for your own blog or channel, you could also start as an individual freelancer. All you need are some marketable skills, like writing skills or photography skills, for example. Believe it or not, people actually pay good money for those – you just have to know where to look.
Two of the best sites for freelancers right now are Upwork and Freelancer.com. Signing up is free on both platforms, though they do get a small percentage of your earnings before releasing the final amount to you.
Whatever it is you decide to do, the important thing is to focus on something that you'll enjoy doing even in your free time. Find your niche, own it, and you'll make good money doing what you love.
9. Sell Your Stuff
I know, Captain Obvious right. But selling things you no longer use on Ebay, Craigslist etc is a great way of getting yourself a tidy sum together and decluttering your house at the same time.
Today, selling your unwanted items is super easy and super fast. Simply take a pic with your phone and your item can be listed in under a minute. Once you have got a good amount, put that into an investment, business or perhaps a course focused on increasing your income.
10. Manage Social Media For Small Businesses
Most business owners have their hands full. Their goal is to innovate, grow and scale their business. And as we well know, social media is a huge area in marketing that can get quite confusing and somewhat overwhelming. Let's face it, managing Facebook posts, Instagram snaps, Snapchat, Pinterest and Twitter is a mammoth task within itself. It's certainly not something as a business owner, I enjoy doing.
This is where you come in. A business owner will happily pay you even up to $5,000 per month to manage and promote them using all of the appropriate channels of social media. You will be posting their latest blog posts, prize raffles, events, ads and products.
And the best thing for you is….there is no cost to get started. It's free to land a few clients and at $1,000 a month each, so if you can keep yourself organized, hustle for some leads and know your way around a social media platform then this style of business is definitely a viable option for you to make online money for free.
So there you have it, some easy ways to make fast money.
Now go make it happen.