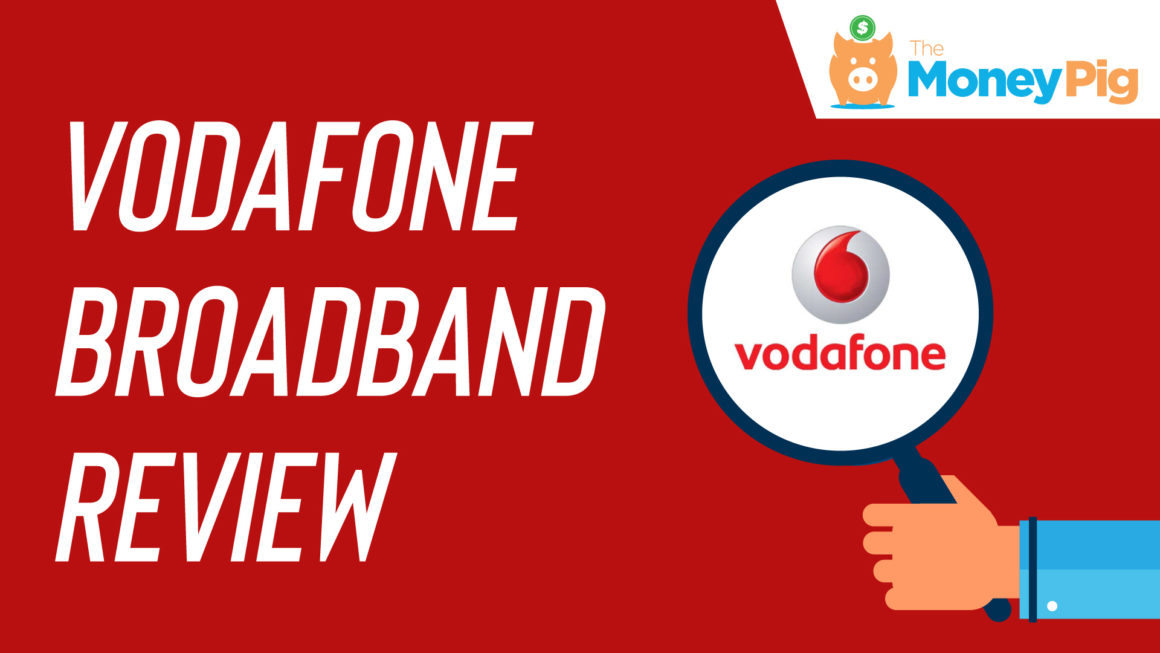 Vodafone Broadband
Vodafone's homepage encourages shoppers to join the "Great British Broadband Switch", claiming savings of £228 per year can be enjoyed by switching to Vodafone mobile.
This sounds like a great deal, but is it too good to be true?
Since launching to UK customers in 2015, Vodafone broadband has established a reputation as being one of the fastest providers in the UK in terms of actual speeds customers get, although they have not yet moved into the ultrafast portion of the market where Sky, BT, and Virgin Media are now operating services.
Vodafone's higher speed internet services are due to launch across the UK in 2020, initially only to selected cities, with Birmingham, Bristol, and Liverpool set to be the first to be able to access these. Vodafone's website does feature a postcode checker so anyone can check if they're able to access these and can keep up to date with when they become available in their area.
In this guide, we're going to provide you with everything you need to know about Vodafone broadband to help you make a considered decision around whether one of their packages is for you.
Determining The Best ISPs In The UK
To begin with, let's highlight the criteria that we'll use to judge if Vodafone is worthy of our time and money.
Internet speed deals are a must-examine in these scenarios. Not only is the internet our primary means of keeping up with the outside world today, nowadays it's become our source of information, entertainment, and even income. For simple browsing, 1 Mbps is mostly enough for your needs. For video conferencing, a minimum requirement is 1-4 Mbps, although data requirements typically rise the more people there are in a call. If you're a work-at-home worker using the internet to video conference with members of your team, it's best to allocate a huge allowance for this need. For high-quality video streaming, 5-8 Mbps is usually enough. For consistent, high-quality gaming, 25 Mbps, or above is best. A whopping 50 Mbps is needed if you constantly need to download large files.
Next, we'll look at pricing. It's best to compare whether or not the prices you are being offered is competitive in comparison to other subscriptions available for you. We want to squeeze out as much value as we can for each hard-won dollar that comes out of our pocket, after all.
Finally, we'll examine customer service and customer service ratings. This is the company's way of communicating with their customers, and this review would be remiss without considering this. Bad service is not only a minor inconvenience but can result in loss of money and your valuable time.
With these standards set, let's look at how Vodafone measures up to the task.
What Broadband Speeds Does Vodafone Offer?
Consumers in the UK typically consider several factors when choosing a broadband service. A combination of both speed and price tends to come under consideration, while many consumers will take out a broadband package linked to another service, most commonly a TV subscription although they may get offered deals from a mobile phone provider or another source.
Vodafone broadband currently offers two broadband packages, called Superfast 1 and Superfast 2, with advertised average download speeds of 35MB and 63MB.
Upon launching its ultrafast services, customers will also be able to get 100MB, 200MB, 500MB, and 900MB broadband from Vodafone.
Change In Ruling
Due to a ruling from the Advertising Standards Authority that came into effect in May 2018, internet service providers (ISP's) in the United Kingdom are now required to advertise average speeds on the basis of what at least half of their customers can receive at peak times. Prior to this ruling, ISP's could advertise higher headline speeds, so long as only 10% of customers were being provided with such a speed.
However, although this ruling means the advertised speeds you see when looking for your ideal broadband package are more accurate, the speed that you can receive and use depends on several variables. Use a broadband speed checker to get an even more accurate idea of the internet speeds you can expect to receive, from Vodafone or any other provider.
Vodafone was also specifically rebuked by the Advertising Standards Authority back in 2019 after it had started to advertise its "Gigafast" broadband services on its website. They were found to be potentially misleading consumers by advertising the term "Gigafast" at the price of £23 per month when this price relates to its slower services.
At the time of writing, Vodafone was continuing to advertise "Gigafast" broadband and it appears this is how it will market its ultrafast services upon launch in the spring.
How Does Vodafone's Average Speeds Compare with Others?
As of February 2020, the latest research from Ofcom had been conducted in November 2018 and published in May 2019. That research did not include Vodafone, so at present there are no sources of valid comparison data for Vodafone broadband.
If you're currently with another broadband provider, then you can check your current speed with a speed checker and compare how Vodafone would perform against this.
As Vodafone will soon be entering the ultrafast market with their "Gigafast" broadband, it is likely that like for like comparisons will be available for these and all of Vodafone's broadband packages in 2020.
Vodafone Broadband Offers and Deals
At present, Vodafone only offers the two broadband packages mentioned earlier. However, there are incentives such as price discounts of £2 per month on broadband for existing Vodafone mobile pay monthly customers, while Vodafone is also currently offering broadband packages that include a free Apple TV 4K and a one-year Apple TV+ subscription, although these are longer contracts.
Below are the latest broadband deals offered by Vodafone:
Vodafone Superfast 1 gets you an average of 35 Mbps download speeds and 10 Mbps upload speeds – suitable for three or four people connected with non-demanding internet needs such as social media, simple games, Netflix. However, this subscription may start slowing down if more than one person consumes large amounts of bandwidth such as 4k videos or demanding video games.
Superfast 2 provides 63 Mbps of download speeds with 20 Mbps upload speed. This kind of bandwidth is perfect for a houseful of internet users needing to do various stuff all at the same time. As long as there are no simultaneous large downloads, this subscription will normally be able to accommodate most internet consumption demands.
Both Vodafone's Superfast 1 and Superfast 2 packages come with a speed guarantee – which Vodafone calls its "Ultimate Broadband Guarantee" – stating that users are guaranteed 25MB minimum download speed (for 35MB packages) or 55MB download speed (for 63MB packages) or they will provide a 15% discount until the issue is resolved.
Vodafone Broadband Pricing vs Competitors
Let's look at how Vodafone's broadband pricing compares to competitors. Although at the time of writing Vodafone had not started providing their 100MB service, we have provided a comparison at this speed and other Vodafone Gigafast packages based on the current pricing on the Vodafone website.
To enable us to provide the truest comparison on a like for like basis, we have used pricing assuming you're not an existing Vodafone pay monthly customer, for the standard package with no Apple TV.
Vodafone Superfast 1 Price Comparison
| ISP | Package | Advertised Average Speed | Contract Terms | Upfront Payment | Monthly Payment |
| --- | --- | --- | --- | --- | --- |
| Vodafone | Superfast 1 | 35MB | 18 months | Free | £21.95 |
| Plusnet | Unlimited Fibre | 36MB | 18 months | Free | £22.99 for 18 months, then £39.48 |
| TalkTalk | Faster Fibre | 38MB | 18 months | Free | £22.45 for 18 months, then £36 |
| EE | Fibre | 36MB | 18 months | Free | £24 for 18 months, then £37 |
| Now Broadband | Fab Fibre | 36MB | 12 months | Free | £25 a month for 12 months, then £35.99 |
Vodafone Superfast 1 Price Comparison
At these speeds, Vodafone is the cheapest broadband provider in the market, and you'll enjoy even cheaper prices if you're already a Vodafone pay monthly mobile customer!
| ISP | Package | Advertised Average Speed | Contract Terms | Upfront Payment | Monthly Payment |
| --- | --- | --- | --- | --- | --- |
| Vodafone | Superfast 2 | 63MB | 18 months | Free | £23.95 |
| Plusnet | Unlimited Fibre Extra + Line only | 66MB | 18 months | Free | £26.99 for 18 months, then £40.98 |
| TalkTalk | Superfast Fibre | 67MB | 18 months | Free | £24.95 for 18 months, then £41 |
| Sky | Broadband Superfast | 59MB | 18 months | £19.95 | £27 for 18 months, then £32 |
| EE | Fibre Plus | 67MB | 18 months | Free | £28 for 18 months, then £42 |
| BT | Superfast Fibre 2 | 67MB | 24 months | £9.99 | £34.99 for 24 months, then £47.99 |
| Now | Super Fibre | 63MB | 12 months | Free | £30 a month for 12 months, then £43.99 |
Vodafone Superfast 2 Price Comparison
Believe it or not, Vodafone is actually the cheapest provider in the market at these speeds, with the pricing so competitive that even with the Apple TV package you'd still be cheaper than some of the other providers in the UK.
Vodafone Gigafast Broadband 100 Comparison
ISP
Package
Advertised Average Speed
Contract Terms
Upfront Payment
Monthly Payment
Vodafone
Gigafast Broadband 100
100MB
18 months
Free
£28
Virgin Media
M100 Fibre Broadband
108MB
12 months
Free
£33 for 12 months, then £49
Sky
Ultrafast
145MB
18 months
£39.95
£39
Zen Internet
Unlimited Fibre 3 + Line Only
145MB
12 months
£55
£49.99
BT
Ultrafast Fibre Plus 2
150MB
24 months
£9.99
£49.99 for 24 months,
then £64.99
Virgin Media
M350 Fibre Broadband
362MB
12 months
Free
£43 for 12 months, then £59
Vodafone
Gigafast Broadband 500
500MB
18 months
Free
£38
Vodafone
Gigafast Broadband 900
900MB
18 months
Free
£48
Virgin Media
Gig1 Fibre
1.104MB
18 months
£35
£62
Vodafone Gigafast Price Comparison
*Virgin Media also offers a 500MB broadband service, but this currently only available as a part of package deals and not as a standalone service, so we have not included it in this comparison.
While making direct comparisons at this end of the market is often difficult due to the different speeds offered, Vodafone is very competitive and arguably the best value of all the providers.
For the price of Zen Internet and BT's broadband packages at the 145MB and 150MB speeds, consumers can take out Vodafone's fastest Gigafast 900 Broadband package. While Virgin media offers a faster broadband solution, given the installation and monthly costs Vodafone potentially still offers better value.
After all, the true test of all these providers will come when full research into the actual speeds these ultrafast packages are providing into our homes.
How Does Vodafone's Pricing Compare Overall?
At all levels of the market, Vodafone is very competitive in pricing, often offering the cheapest prices on the market. In fact, they're even willing to give you an even better deal if you're already a Vodafone pay monthly customer.
It is likely that as more ISP's enter the market offering these speeds that Vodafone will remain competitive.
Vodafone Broadband Customer Service Performance
Vodafone has long held a reputation as being poor when it comes to the customer service it offers. While pre-2015 this was exclusively related to its mobile network, since then its broadband has not exactly enjoyed a glowing reputation on this front, either.
Issues with its service even saw Vodafone landed with a fine of £4.6 million from Ofcom in 2016 due to failings across various elements of its service.
However, as part of its annual research into the products and services offered by telecoms and communications providers, Ofcom has found improvements in Vodafone's service, at least in the context of customer satisfaction and customer complaint metrics, as highlighted in the table below.
| Year | Overall Vodafone Customer Satisfaction | Satisfaction with Vodafone's Complaints Handling | Complaints to Ofcom per 100,000 customers |
| --- | --- | --- | --- |
| 2017 | 89/100 | 46/100 | 92 |
| 2018 | 88/100 | 47/100 | 48 |
| 2019 | 93/100 | 54/100 | 35 |
Vodafone Customer Service Complaints
Vodafone has been open about the efforts it is making to improve service. Measures it has taken in recent years include adding more UK call centres and revamping how their teams are trained.
However, one point of notice relating to the above figures is that these relate to Vodafone in general.
Ofcom also found that across the second half of 2018 and the first three months of 2019, Vodafone broadband complaints were around twice the industry average. Only Plusnet broadband performed worse, although they experienced well-publicised issues with the implementation of a new billing system over these times.
Contacting Vodafone
Getting in touch with Vodafone's service team when you're a customer is simple:
Via Twitter @VodafoneUK.
By clicking "Contact Us" on the Vodafone website, you will be taken to this page where TOBi, Vodafone's "virtual assistant", will help you to find the answer you need or direct you to the right place.
The Vodafone website, as is now common among telecom providers, also has a customer forum where answers to the most frequently asked questions can be found, or customers can simply post questions or problems and will often receive a quick resolution.
Tips When Considering Vodafone Broadband
Good research needs more than words on a screen – and we want good research before we decide to hand over our hard-earned cash. If you need more information to determine whether or not his broadband company is right for you, here is some advice.
Talk to neighbors, family, friends, or coworkers who are subscribed to Vodafone.

Preferably

if they live near your area because the geographic location could be a huge factor when it comes to internet services. They will be able to provide

in-depth, first-hand information about their experience with the internet offers and the company's customer service.

Determine if they've faced any related issues and what those issues are. They may have experienced slow internet due to a lot of other factors that don't involve the ISP. This includes things such as malware that consumes bandwidth, their neighbors leeching off their network, junk applications connected to the network, malfunctioning router, or outdated router firmware, for instance. Regardless of what their opinions may be, don't simply take their word for it. It's best to ask as many people as possible to get a clearer view.
Reach out to the company itself. This will give you a good idea of how they treat their customers and whether or not their contact information is reliable. More than that, you'll be able to personally ask them about specific questions that you might have about their service.
Summing Up Vodafone Broadband
If you can get over Vodafone's poor customer service reputation and try them out for yourself, there's no doubt that there's value to be had.
As we've seen throughout this review, Vodafone is very competitive in terms of pricing and the speeds it offers, a trend which looks to be continuing right through up to the top end of the UK broadband market in terms of speeds.
If you're put off by Vodafone for now due to their service reputation, it's worth keeping an eye on. If they get better at their service and maintain their pricing, they should go on to become one of the UK's best broadband providers in the coming years.
To find the best broadband deals in one easy comparison table, head over to our MAIN BROADBAND DEALS PAGE