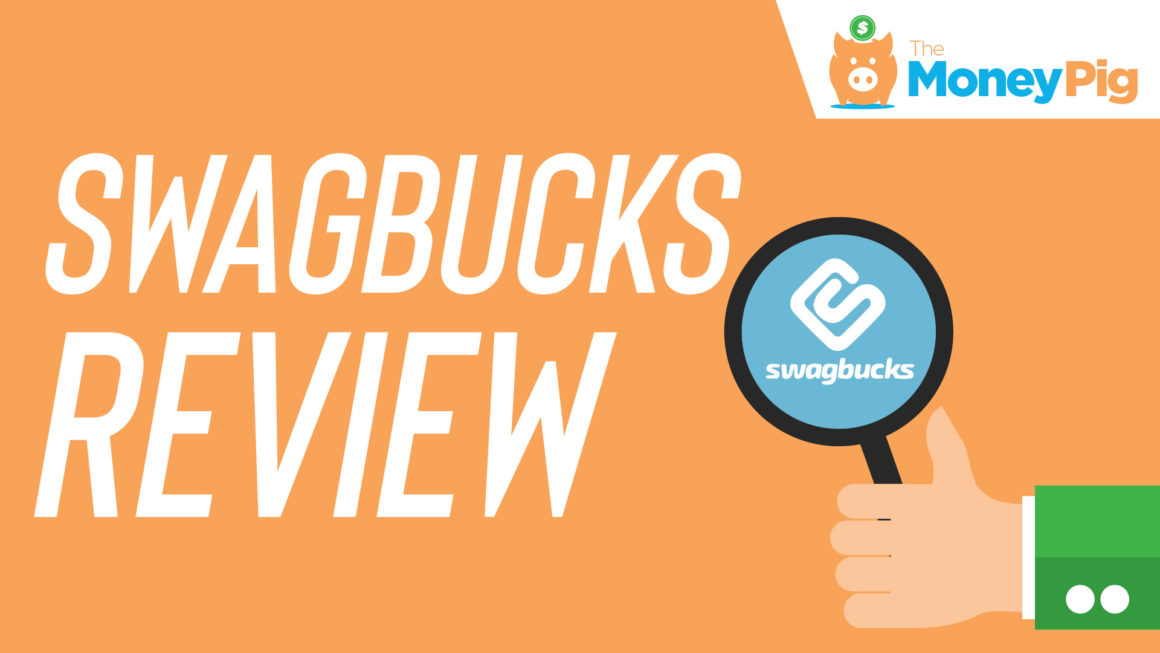 Swagbucks Review
There's no such thing as easy money – but nowadays, there are so many ways to earn that it's pretty impossible not to find a good gig, especially if you turn your eyes to the internet.
One of the most popular ways to earn extra money online these days is through online survey sites. These sites often provide their users with other methods, not just by answering online surveys, in order to earn their keep. Swagbucks, a top online survey site in the United States, also lets users do other tasks for extra points.
If you're looking for a comprehensive and honest Swagbucks Review, then you've come to the right place.
What Is Swagbucks?
Swagbucks is a popular loyalty-rewards website run by a company called Prodege, founded by one Josef Gorowitz and based in Canada. In 2014 Josef won the Ernst & Young Entrepreneur of the Year: Advertising Category, and was featured as CFO of the Year by Los Angeles Business Journal in the same year.
Swagbucks is a website that rewards users based on specific activities done on their website, affiliate websites, or apps. As mentioned above, they offer plenty of rewards to their users if they accomplish a survey, use their search engine for searches, and many more activities detailed below.
These rewards come in the form of Swagbucks or SBs, the digital currency within the platform. With SBs, users can receive cash or avail coupons that they can use on over a thousand different participating retailers and merchants. Once your balance reaches 2,500 SBs, you can also redeem your points in cash via PayPal.
Then again, if you're feeling generous, you can also use your SBs to donate to various organizations and charities. Swagbucks allows users to donate for as little as 5 SBs.
How Much Can You Earn On Swagbucks?
1 SB costs $0.01, so if you want to earn $5, you'll have to collect a total of 500 SBs. For $25, you'll need 2,500 SBs.
How easy, or how hard, collecting your goal amount will depend on what tasks you're willing to do. There are plenty of things you can do on Swagbucks and every single one gives you a corresponding amount of SBs. Completing surveys is the most common task on the site though, considering that it's an online survey site, after all.
There's basically no exact amount as to how much one can earn on Swagbucks, as it all depends on how many tasks you're willing to do on the site. Some tasks give more SBs than others so obviously, doing those more can give you more SBs. Of course, if you complete more surveys and do accomplish more tasks in a specific period of time, you'll definitely earn more than someone who only does surveys occasionally.
Who Can Use Swagbucks?
Anyone with a PC and a reliable internet connection can sign up to use Swagbucks, as long as they're from select countries, that is.
As of this writing, Swagbucks is only available in 11 countries, namely Australia, Canada, France, Germany, India, Ireland, New Zealand, Portugal, Spain, United Kingdom, and the United States.
Also, in order to sign up for Swagbucks, you have to be at least 13 years old. This is actually a requirement for all websites, thanks to the Child Online Privacy Protection Act (COPPA), a law meant to protect the activity of children on the internet.
Those are who already 13 years old but have entered their birthdays incorrectly, however, must provide sufficient documentation to prove their real age. In the case of minors, their parent or guardian is also required to submit a copy of their government-issued identification card, for legal purposes.
8 Ways To Earn Money On Swagbucks
Now, how exactly does one earn money on an online survey site like this one? Although it may seem rather straightforward, there are actually a few more tricks that you can use to increase your earning potential. In fact, here are 7 easy ways to earn money on Swagbucks, without having to break a sweat.
1. Change your default browser
By far, the easiest way to earn money on Swagbucks is to simply change your default Internet browser to Swagbucks instead. Just by using it to conduct regular searches on their search engine every day, you can earn about $50 a month or $300 in 6 months. It may not seem like much, but come to think of it, when has Google or Bing ever paid you for using their search engines?
While these big-name companies earn millions as they use our searches for targeted ads and the like, receiving money from them for using their product is nothing but a pipe dream. Even if it's a small amount, at the very least Swagbucks gives you something.
Although this is the easiest way to earn money on Swagbucks, it's understandable that not everyone is too keen on the idea of using a commercial search engine or browser. After all, if Swagbucks is paying you to search for stuff on the internet, it's highly likely that it's going to be using all that information somewhere.
Luckily for us, Swagbucks' search engine is run by Yahoo!, so there's no need to get worried. Besides, if you're scared that it's going to steal all your personal information, you can just stick to using your trusty ol' browser for signing into your social media and other pages. Leave the Swagbucks browser to be used for simple searches alone.
2. Accomplish all polls and surveys
What's an online survey site without the surveys? Swagbucks offers plenty of surveys on the site, ranging on a whole variety of topics. No matter what your interest may be, you're sure to find a survey that would be suitable for you.
The only disappointing thing about Swagbucks surveys is that you can't accomplish all of them, even if you wanted to. Why? Because you won't be eligible for all of them, that's why. Worse, unlike other survey sites that automatically do all the matching for you, Swagbucks lets you select which surveys you want, and then tells you halfway through if you're not actually eligible for that certain survey. If you've never experienced that before, we guarantee that it's rather frustrating to be answering a survey for 10 minutes only to find out that you'll only be receiving 10 SB or so for it because you're not part of the target audience.
Successful surveys, on the other hand, give out anywhere from 50 to 1500 SBs in one go. These can take 5-30 minutes to accomplish, with the longer ones giving the highest pay-outs. For better efficiency, you can attempt to finish the lowest-timed surveys, that only take up 10 minutes or less, with the highest amount of rewards.  Just make sure that your answers are consistent across all your surveys and you'll certainly get more that are suitable for you.
3. Watch videos
Video ads are certainly annoying, but we have to admit that they're a bit less so when you're getting paid to watch them.
On Swagbucks, users receive 3 SB for every 30 minutes that they watch a video on the platform, with a hard limit of 150 SB per day for this activity. These videos range from viral clips to serious news content to entertaining online drama, so there's certainly a lot to go for everyone.
Here's one tip if you want to maximize your time for this activity: just leave your browser open! It doesn't matter if you're actually chatting with your crush and not really watching the small box in the corner. All that matters is that the videos are playing, whether in the background or not, and you're all good.
4. Play online games
Did you know that Swagbucks also pays users to play games? That's right, you can not only have fun but also earn money on this online survey site.
That said, don't get your hopes up too much as these games aren't like those complex RPGs or exciting first-person shooters. They're a lot more simple – pretty much the kind of games one would play just to while away the time. And although there are plenty of choices on Swagbucks' roster, only 3 games are actually free to play: Swag Memory, Swag Jump, and Swagasaurus Run. Don't bother opening the other games, as they're most likely just ad-ridden distractions.
In Swag Jump, users literally jump through the sky to collect as many Swagbucks logos as they can. Swag Memory works like any other matching game, while Swagasaurus Run has users controlling a green plant-eating dinosaur as it leaps its way through deadly chasms. Just by playing these three mini-games, users can receive up to 10 SB per round.
5. Refer people you know
If you're looking for a good passive income source, referrals are your best friend. Swagbucks referrals are a great way to earn money without actually having to be active on the site at all times.
To start referring, simply share your Swagbucks referral link to someone who's interested in signing up for the site. Each referral will give you 300 SBs, that is if your friend earns 300 SBs in a month. But even if they didn't, you'd still get an equivalent of 10% of all their SBs each month, as long as they're active on the site.
For example, if you had 3 referrals and they all earned 1000 SB this month, you'll see 300 bonus SBs credited to your account at the end of the month. If next month they only earned 500 SB each, you'll only receive 150 SB. It's still better than nothing, though, especially since you didn't even have to lift a finger to receive that amount. Do you see now how collecting lots of referrals can earn you a lot of money on Swagbucks?
6. Try out new apps
Another easy way to earn money on Swagbucks is by downloading and trying out new apps from the app store. Yes, you can get SBs just for installing and opening apps on your phone, something that you've already done countless times before.
Swagbucks doesn't even care if you end up keeping the app or just deleting it right after you install it – it will still give you SBs. Each free app you download gives about 15-50 SBs, while paid apps will give around 300-500 SBs. Paying for an app just to earn SBs is quite counterproductive though, so remember to only pay for an app if you really want it, not just because you can earn SBs from it.
7. Complete your daily goals
Whenever you log into the platform, you'll see a daily "To-Do List" showing 8 things that Swagbucks wants you to accomplish for the day. This list includes the daily poll, daily crave, daily search, daily watch, daily discover, attempting a gold survey, deal of the day, and completing a gold survey.
Most of these are rather self-explanatory, and three of these, the daily poll, daily search, and the deal of the day, can actually be accomplished by clicking on the item on the to-do list itself and following the instructions on the next page.
You'll be able to receive a few bonus SBs per day if you make it your goal to complete this daily to-do list. Achieving your goal for consecutive days can also give you a streak bonus, which ranges from 25 SBs to 300 SBs.
8. Deals and gift cards
Swagbucks Discover allows you to search for profitable deals – from signing up for product trials, to donating to charities, to buying from their affiliated brands. Only a few in there give generous compensation for your time, but you can sort through the riff-raff until you find activities that would make sense for you right now. If you want the highest paying activity and the newest hot brands, you'll have to check the featured deals and the signup listings.
For gift cards, by not only reducing your spending but also in giving you a little bit of cashback every time you shop with affiliated stores Swagbucks offers you the use of MyGiftCardsPlus.com, which is also still a Swagbucks site. They sell gift cards from a variety of retailers – not only that but in some products, you can earn up to 10% cashback!
Be wary, though, as some of these offers require you to actually buy from them – if you prefer not to shell out cash in order to earn it back, then choose carefully. Most of all, check if the offer is still up and hasn't passed its deadline. After all, it would be such a waste of time for you to accomplish the task only to find out that it wasn't valid anymore. For all of these offers, make sure to select only those that make the most reward for you. 
Swagbucks In A Nutshell
We now know that Swagbucks is a legitimate loyalty website that rewards its members with its virtual currency every time they do something with their website. Although you won't be becoming a millionaire soon with what you earn from there, there are a variety of ways you can make extra money; from simply using their web browser, to playing games, watching videos, and searching online. You will be paid in a currency called Swagbucks (or SBs), which you can convert to gift cards or to cash.
One of the most common complaints against Swagbucks is the long wait for you to be able to claim your hard-won money, which (at worst) ranges from within three days to a full week before a full money transfer – but this shouldn't be that much of an issue if you aren't relying on Swagbucks to pay your bills. Another criticism is their low rewards per action – however, if you can properly manage which surveys to take, videos to watch, and other actions to perform, this will be a minimal problem.
Be careful to properly choose the kinds of activities that you engage in. Make sure that your privacy is always protected, that the offer is still valid, and finally that you feel as if the compensation is enough for the time you spent.
Should You Sign Up On Swagbucks?
Swagbucks is one of the most popular online survey sites out there and it's quite easy to see why. Not only does it offer plenty of ways to earn money, but it also allows easy redemption of your points in the form of gift cards or PayPal cash.
Signing up on Swagbucks is completely FREE and if you've got some free time to spare anyway, we don't see any reason why you shouldn't sign up for Swagbucks. In fact, we highly recommend it.
We hope you enjoyed our Swagbucks review, if you did, you may also enjoy our Survey Junkie review and our Paribus review (Refund App).