Paribus Review
Picture this – you've just purchased an item that you've been wanting to buy for so long. After mulling about it for some time, you finally decide to take the plunge. Unfortunately for you, a flash sale occurs less than a week, or even just a day, after your purchase. Talk about a case of bad timing. Great news: that's where Paribus comes to the rescue and lucky for you we have made a comprehensive Paribus review to help you make the best decision.
What Is Paribus?
The Paribus app is a service that aims to help people save money by monitoring product prices and automatically refunding users for any differences. While most companies already offer some kind of refund policy for price drops, it's still not that easy to file a claim especially if they deem that the amount is not big enough to warrant their attention.
At the same time, not everyone is willing to go through all the hassle just to get some of their money back. So while people who are trying to refund hundreds of dollars may be more likely to get some action on their claim, those who are only looking towards a couple of dollars may just forego the entire process and take a loss.
With Paribus' automatic price monitoring, however, users can save themselves the hassle and leave it all to the system. Of course, although Paribus handles the entire refund process, it doesn't mean that your claim will automatically be approved. It's still up to the individual retailers' discretion whether or not they're going to approve your claim — the point is, at least you won't have to go through the arduous process yourself.
Currently, the Paribus app works only for select retailers, but it is expected for more and more to be added in 2020. Best of all, Paribus is completely free. And by that, we mean completely free: no sign-up fee, no ads, no hidden fees. It did use to get 30% of all approved refunds as commission for the service, but after a couple of years, Paribus has become 100% free, even to this day.
So let's crack on with our Paribus review.
Is Paribus Legit?
One of the most common questions people ask when researching about Paribus is, is Paribus safe? After all, if there's one thing we can learn from the internet, it's this: if you don't know where a company is earning its keep, it's probably earning from you. You've probably already encountered the same sentiment in the saying, "There's no such thing as free lunch," in the real world.
But if you're going to ask us, "Is Paribus a scam?" "Is Paribus legit?" "Is Paribus safe?" then we've got two answers for you.
Short answer? Yes, PARIBUS IS SAFE and PARIBUS IS LEGIT.
Long answer? With a name as big as Capital One backing the service up, you can be 100% sure that Paribus is guaranteed safe to use.
Back when Paribus first started, it used to require users to connect the service to their credit cards, in order to effectively see all purchases made by the user. This made quite a lot of people wary to use the service, especially with all the hacking incidents happening in the financial industry.
After Capital One acquired Paribus in 2016, however, the company effectively abolished this requirement, thus ensuring the utmost privacy in terms of credit card and bank account information.
Now, you might be wondering, "If Paribus is free, then how does it earn money?"
Paribus doesn't tell users exactly where it gets its income from, but we suspect that it might have something to do with your email address. After all, this is the only thing required to actually sign up for Paribus. In fact, the service requires you to grant them full access to your email before you can begin using it.
While the company assures users that it won't use the email for anything other than service-related activities, it's still up to your discretion whether you want to use your personal email or not. If you're wary of giving them access, you can always just use a separate email for Paribus and all your online purchases. It's honestly as simple as that.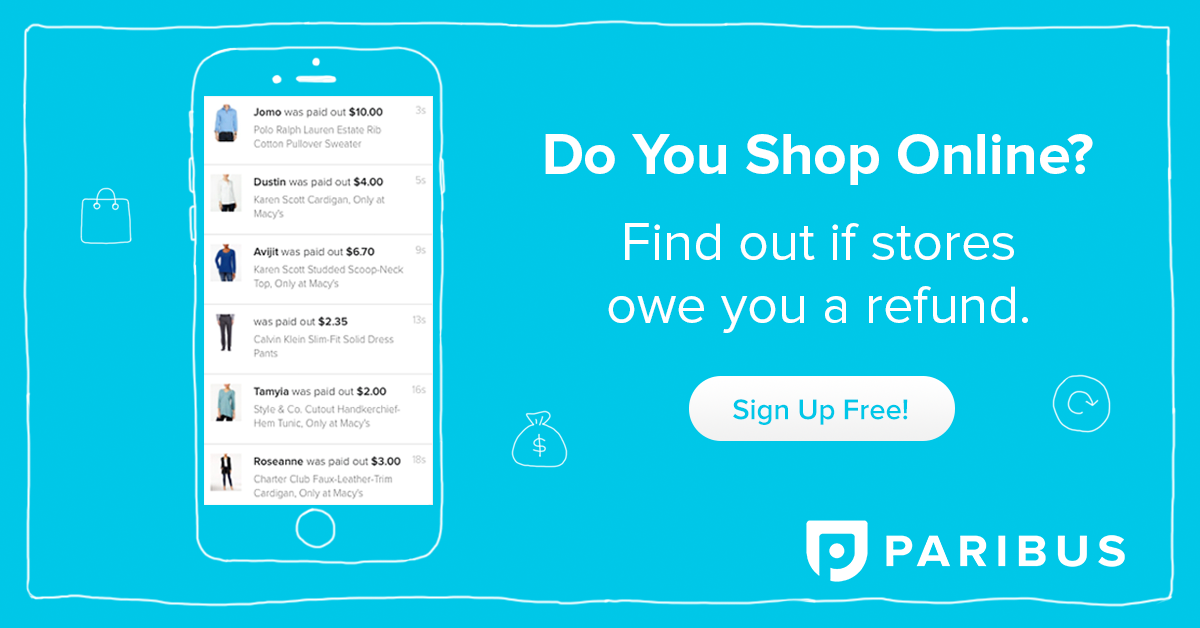 How Does Paribus Work?
Like many price-matching services, the Paribus app works by keeping track of the fluctuating prices of the products that you purchase using the digital receipts found in your email, which is why it requires email access. Once it finds a lower price, it handles every single step in the refund process, from the refund request to the delivery of the amount straight to your account.
Price Matching
Let's say you bought a product on Amazon for $69. Come next week, that price suddenly comes down to just $59. Of course, you're free to file a dispute with Amazon to get the difference back. However, while filing a refund is understandable for high-ticket items costing hundreds of dollars or more, a $10 difference many give some people a second thought. You might even ask yourself, is $10 really worth all the hassle?
Luckily, if you're a Paribus user, that $10 is already back in your account before you could even find out that the price had changed. The system can amazingly detect every little price change, no matter how small the difference is. Once it detects the change, the system will immediately file for a refund and go through the whole process in lieu of you.
Delivery Fee Refund
Aside from price-matching, Paribus is also good for another purpose. Have you ever had something delivered to your house, but instead of arriving in 3 days just like it said, it actually arrived after two weeks? If you're signed into Paribus, you could even receive a full refund on your delivery fee. That's right, free deliveries for late items.
Currently, only Amazon Prime subscribers and Amazon or Walmart customers who availed guaranteed shipping can avail of this service, but Paribus is hoping to expand this service to other retailers' customers soon.
Who Uses Paribus?
Actually, anyone could use the Paribus app, considering its price – or lack, thereof. After all, who doesn't want to get refunds on price differences and late deliveries? Nobody ever said no to free money.
That said, Paribus is an essential service for people who tend to do most, if not all, of their shopping online. Its refund policy is much easier and more straightforward than many online retailers, who usually make customers go through a whole process before they can get their money back.
With Paribus, customers can now spend more time doing more important things, since it can automatically begin and end the entire refund process by itself.
Paribus Partner Retailers
Amazon – late delivery monitoring only
Anthropologie
Athleta
Banana Republic
Bed Bath & Beyond
Best Buy
Bloomingdale's
Bonobos
Costco
Crate & Barrel
Gap
Home Depot
J.Crew
Kohl's
L.L. Bean
Loft
Macy's
Neiman Marcus
Newegg
Nordstrom
Office Depot
Old Navy
REI
Saks Fifth Avenue
Sears
Staples
Target
Walmart
Wayfair
Zappos
We're happy to see Target and Walmart on the list, though these two only have price drop monitoring and, for Walmart, late delivery monitoring. Target still requires you to exert some effort on your part though, as it does not allow Paribus to file a refund claim for you. Once the system detects that your purchased item from Target has received a price drop, you'd still need to phone in for you to actually get a refund.
Amazon also appears on the list, although Paribus can only offer refunds for late deliveries. This honestly is quite disappointing considering Amazon is the world's biggest online store.
Pros and Cons of Paribus
You are nearly finished with reading our paribus review and you have probably already gathered that here are many reasons why you should use Paribus and, conversely, a couple of reasons why you shouldn't use it either. Here are some of the reasons why, for both sides.
Why You Should Use Paribus
You trust big companies. Paribus is owned by Capital One, a large company that deals with other financial institutions and services. They also have services helping people find the best credit card or savings accounts and process loans for people who need them. This isn't to say that Capital One is devoid of any issues though, as with many other companies, small or big.
You don't like doing things manually. Paribus does things automatically, and who doesn't like automatic things? In an increasingly hectic world where people are always too busy to check price differences of the things they buy, services like Paribus are absolutely heaven-sent.
You always get late deliveries. We understand the hassle of late deliveries and we also hate them just like the next person. With Paribus, at least you've got a chance to get compensated in case you receive your packages late.
You love online shopping. If you enjoy shopping for all your essentials online, or if you order something from the internet at least once a week, then we highly recommend that you subscribe to a service like Paribus. Not only will it save you some money, it also does things without you having to tell it to do so.
It's free. Last but definitely not the least, Paribus is absolutely free of charge, with no hidden fees whatsoever. What's not to like?
Why You Shouldn't Use Paribus
You're suspicious of free stuff. Paribus may be a well-meaning service, but we can't blame you if you're suspicious of its payment model. We also have no idea how Capital One earns its money, so that's definitely something to think about before signing up for the service. But after reading this Paribus review, we hope you are able to make the best decision.
You don't want to give your information away. While Paribus doesn't exactly require you to give any of your personal information, it does require you to give it access to your email address, which could contain some of your personal information. However, as we've mentioned above, there's an easy fix for this specific concern: just use a separate email address for all your shopping needs, and you're good to go.
Is Paribus Worth It?
So that wraps up our Paribus review, and as with everything, Paribus does have its own pros and cons, and it's up to you to decide whether you're alright with that or not. However, seriously speaking, for the high price of FREE, how can Paribus not be worth it? Paribus is legit and it most definitely works to get money back into your pocket.
You're not required to give away any bank account information and you're also not obligated to pay any fees whatsoever, so you've got nothing to lose here. It's a win win. If you love online shopping and would like to avoid all the hassles of uncompensated late deliveries and filing claims for sudden price drops, then we can't recommend Paribus enough.
If you enjoyed our Paribus review, check out some of our other reviews below to help you make and save more money: