Lending Club Investing
You may already have money invested in stocks, bonds, and trusts. If you want to diversify your portfolio, specifically through P2P lending, there's one trusted platform you must consider and that's Lending Club.
What is Lending Club?
Lending Club is an online platform developed in 2007 that enables both borrowers and investors to get easier access to credit solutions.
Banks usually lend money to people who need loans for business, personal, or emergency use. With LendingClub, borrowers now have an alternative method to get a loan in a more hassle-free way. Investors, on the other hand, get another option where they can grow their money through P2P lending.
The low barrier for entry of Lending Club lets you invest money in Notes which correspond to loans posted by borrowers. The purpose of the loan varies from personal, credit refinancing, and home renovation to business capital and medical assistance. It's your choice which debt to fund. In return, you can receive the capital back with interest through monthly repayments.
As with any other investment vehicle, Lending Club Notes also carry risks.
One of the most important things to remember in Lending Club investing is that the Notes aren't insured by the FDIC. The untouched cash in your LendingClub investment account is covered, though. The uninvested money is pooled and held in an "in trust for" (ITF) account under an FDIC-insured bank.
How Does Lending Club Work?
Unlike other P2P lending platforms, you don't directly lend money to borrowers on the Lending Club platform. You buy instead SEC-registered securities called Notes, with each Note representing a portion of a loan.
As an investor, you profit from the borrower's monthly repayments which consists of the principal plus interest. Lending Club takes out the 1% annual fee and other processing costs from the repayments and the rest are deposited into investors' accounts. The amount you'll get depends on how many Notes you hold for each loan.
Lending Club Notes are graded according to the credit risk of the borrowers. The grades range from A to D and each grade has sub-grades ranging from 1 to 5.
A borrower with a poor credit score has a high risk of being unable to repay the loan. Their Notes may be given a rating of D4. On the other hand, a client with a strong credit performance will probably get an A1 or B1.
Notes with a lower grade come with high-interest rates since they're riskier and have a bigger chance of defaulting. Those with higher grades have lower interest rates and tend to be safer to invest in.
Loans have a maturity period of 3 to 5 years, with repayments being done monthly. Borrowers can choose to pay their debts in full before the maturity date without suffering early payment penalties.
Lending Club's grading system makes it easier for you to choose which Note to invest in. Just like bonds, the Notes have ratings that will tell you the risk-reward ratio of putting your money in them.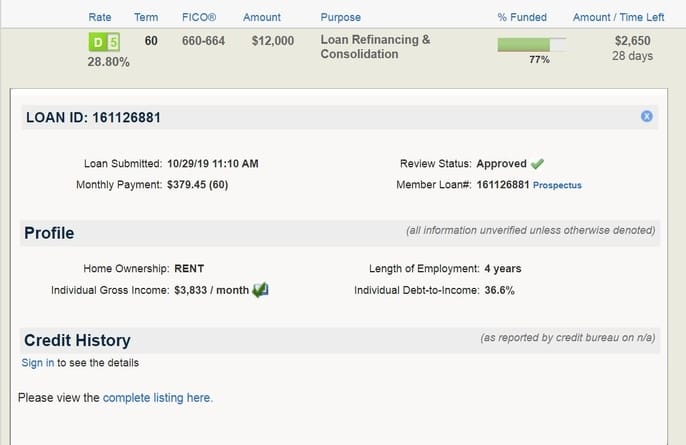 It's recommended to diversify your portfolio with different Notes to lower investment risks. With your initial deposit of $1,000, you can already buy individual Notes of $25 each from different borrowers.
According to LendingClub's research data, 99% of investors who have diversified their portfolio into 100 Notes or more got positive returns compared to those who had less diversified investment accounts.
To diversify your portfolio, you can either browse individual loans posted on the Lending Club platform or activate the automated investing feature. The automated investing robotically spreads your money into Notes that match your investment criteria.
Trading Notes
Aside from buying Notes and waiting for them to mature, there's another way to profit from Lending Club investing. Through the Note Trading Platform, you can buy and sell notes for extra liquidity.
In the trading platform, you can buy Notes that are closer to their maturity dates. Some investors dispose of their Notes to liquidate their position and use the cash to buy new Notes. There are also Notes sold that may be undervalued but can be relatively rewarding to your investment objectives.
Trades are settled within one business day. Sellers are charged 1% of the purchase price of the Note to cover the transaction fee. Any repayments on the loan after the sale of the Note has been settled will go to the buyer who is the new owner of the Note.
What Are Lending Club's Requirements?
Lending Club offers several account types to interested investors: corporate, custodial, individual, joint, rollover IRA, Roth IRA, simple IRA, traditional IRA, and trust.
As an investor, you must satisfy the following criteria before you can start using the platform: you must be at least 18 years of age and have a valid social security number. Only successfully verified identities can begin investing in Lending Club.
Aside from these basic requirements, you also must meet the criteria for net worth and income.
In most states, gross annual income must be at least $70,000. Your net worth must also be at least $70,000. In California, Lending Club investors are required to have a net worth and a gross income of $85,000 respectively.
But if your net worth is greater than $250,000, you're exempted from meeting the annual income requirement; California's criteria for this is only $200,000.
If you're an investor from Kentucky, you must qualify first as an "accredited investor" before investing in the platform.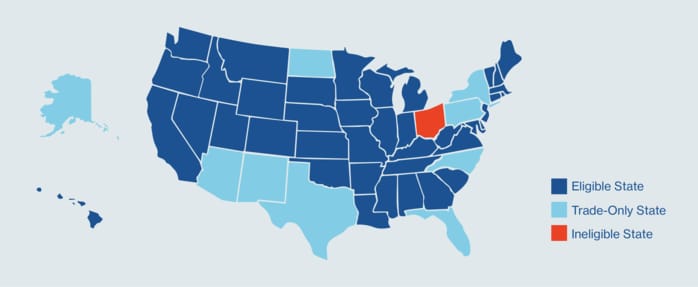 Lending Club investing is available only on select states due to legal restrictions. Any profit obtained from Lending Club is considered as ordinary income and is subject to capital gains tax.
Trusts, companies, cooperatives, and other organizations can also invest in Lending Club. They'll have to undergo a different verification process to ensure they pass the requirements.
Once your application has been approved, you need to put an initial deposit of $1,000 into your Lending Club investment account. From here, you can now buy Notes at $25 per lot.
For IRA accounts, the minimum deposit required is $5,500.
Pros and Cons of Lending Club Investing
Investors like the platform because it's convenient to use and makes it easier for everyone to be involved in P2P lending. Still, there are disadvantages to watch out for in this kind of investment vehicle.
Like any other form of investment, there are pros and cons to putting your money in Lending Club.
Advantages
It has the potential to give higher returns compared to other passive types of investment.
You have full control over which Note to invest in.
Most borrowers have been verified by Lending Club, so you get extra assurance that they can pay their debts.
There's an option to automate investment selection. This can easily diversify your portfolio without the need to comb through the hundreds of loans listed on the platform.
Lending Club offers a way to diversify your portfolio by investing in P2P lending aside from stocks, CDs, bank deposits, and bonds.
Notes are liquid since there's a secondary market where you can buy and sell them before their maturity date.
The platform is easy to navigate and understand. You can also conveniently access your investment account online.
Disadvantages
Lending Club Notes are a form of unsecured debt. You won't be able to recover your investment in case the borrower defaults from the loan.
Gains are taxed as ordinary income, further reducing your profits. It'll be better to put Lending Club investments under an IRA account to save on taxes.
There are fees involved in using the platform, although they're only minimal.
Unlike CDs, you can't expect a fixed return rate for the Notes.
It will take a long time to realize your investment and the profits may not be that big because of the small Note allotments.
Lending Club Investing Tips
Aside from diversification which is strongly recommended, here are more guides that will help manage your Lending Club investments.
1. Don't be blinded by individual returns
Focusing on the individual returns of each Note can make you lose focus of the bigger picture. It's exciting to think about how large your annual profits will be, especially if you buy more Notes of a single loan.
But remember there are risks involved in investing in unsecured loans. There will be times when a borrower will fall behind repayments, or worse, default on the loan. Putting all your eggs in one basket can devastate your Lending Club account, since you won't be able to recover the lost money.
There are also factors like fees and taxes, so better be realistic on your profit expectations. Lending Club's annual estimate for returns is around 4% to 6% only. It's still better than other investment options, but it won't make you rich in an instant.
2. Wait for good Notes to come to you
Carefully study the Notes you plan to invest in. Although it's more convenient to use the automated investing feature of Lending Club, it's better to manually scan through all the available choices. This method will take more of your time, but it will also give you more control over where you'll be putting your money.
If there are no good Notes that fit your criteria, better take a break and come back after a few days. By then, you'll see new offers that might be more interesting to you.
Don't force yourself to buy a note just to satisfy the thought that you'll grow your money instantly once you have it invested. It's better to take your time picking the right Note than to get stuck with a bad one that's hard to unload.
Watch out for when new Notes are added to the platform. Be on the lookout every day at 6 AM, 10 AM, 2 PM, and 6 PM, Pacific Time, since these are the hours when new ones are released. The best loan deals are easily filled, so stay alert and ready your fingers during these times.
3. Reinvest sitting money
You'd be surprised to get almost half of your original investment in a 36-month Note returned in just over a year. Although this isn't guaranteed as there's still the possibility of charge-offs, you can use the immediate profits to reinvest in new Notes.
Reinvesting profits can compound the growth of your account, but don't forget your risk management strategies. Just because you earned back your principal quickly the first time, you'll have expectations that this will happen again on your next investment.
It may take you hours to comb through the many Notes available on the platform. To help you filter which ones are worthy of your attention, consider the following tips:
Note grade
Select from Notes graded A to C. Those that are in the D are very risky and should only be taken once you've mastered the strategy on how to handle them.
Choose Notes with 36-month maturity dates. They're easier to trade if ever you feel like you're not profiting enough from the investment.
Borrower credentials
Select borrowers who have been employed for a longer time. This means they have a stable source of income for repaying their debts.
Avoid borrowers who are looking for money to fund their new business. These are riskier since you'll be factoring more unknown variables into the equation. Look for those who want to refinance or consolidate their loans since they have a better chance of paying the debt on time.
Filter out borrowers with low FICO scores. Those who have a score of 675 or higher are preferable.
A monthly income of at least $7,000 is acceptable.
Lending Club filters
Go only for those with 'Approved' review status.
Tick the 'Verified Income' in the filters section, so you'll see only borrowers who have income information double-checked by Lending Club.
Lending Club Investing Conclusion
Lending Club is an attractive marketplace for P2P lending. It provides a safer method to invest your extra money into lending options that can give better results than simply letting your money sit in a bank.
Of course, just like in any kind of investment, there are risks involved in Lending Club investing. You have to watch out for deals that are too good to be true to avoid losing money for nothing.
With proper money management and thorough research, you can make good investment choices that will help grow your portfolio. Take your time to study what Lending Club has to offer, so you can maximize its advantages and have another option for improving your finances.