It's hard to realize that Bitcoin has been there since 2009. It's almost harder to believe how quickly it grew in popularity and how well accepted it is now. In less than ten years, Bitcoin has become not just well-known, but also widely used. A growing number of online and brick-and-mortar businesses are accepting Bitcoin. It's also difficult to remember that cryptocurrency was once solely traded in secret. Digital assets were not previously well-known or widely exchanged by the general public. Nonetheless, Bitcoin and other cryptocurrencies have sparked a lot of discussion and debate over the years.
An Overview of Bitsgap
A wave of bitcoin trading bots launched between 2017 and 2018. Bitsgap has filled this niche since its inception in 2018.

Bitsgap is a bitcoin management platform that offers a variety of services to modern-day digital currency dealers, as well as access to cryptocurrency trading. Demo mode, trading bots, signals, portfolio management, and many other features are just a few.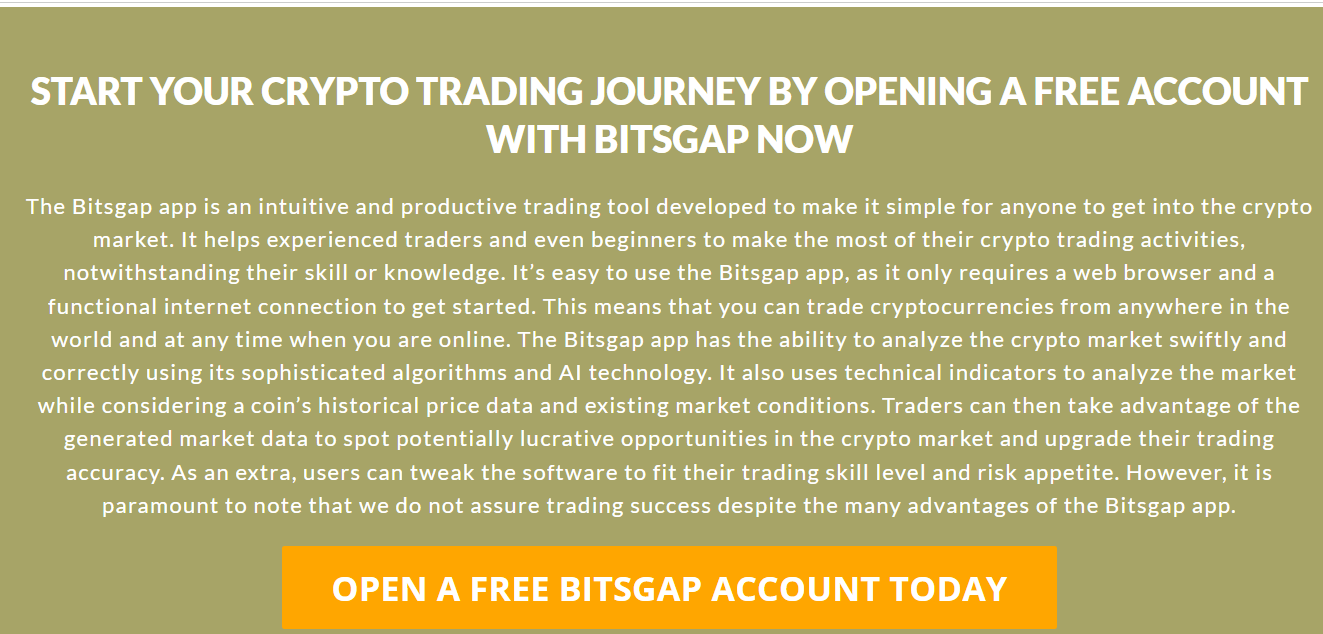 Traders are not restricted by a trading bot that only provides one or a few trading options, forcing them to join various platforms in order to meet all of their bitcoin trading requirements.
Bitsgap, on the other hand, offers everything a full-service cryptocurrency platform should, from buying and selling digital assets to portfolio management.

This is one of the most user-friendly cryptocurrency services available today, as it allows you to combine the usage of trading bots with other useful cryptocurrency features such as portfolio management.
The Bitsgap platform includes a diverse set of functions and features, lending it legitimacy and value. It's a great option for traders who do a lot of business.
Is Bitsgap a Scam or Genuine?
Bitsgap is a reliable and trustworthy platform. Only a few years after its inception, Bitsgap exploded in popularity. It remains popular today, and it is just growing in popularity as it evolves and becomes more effective for today's bitcoin traders. We use the term "popularity" to indicate that it is well-liked among its modest user base. While it may not have as many users as other similar platforms, it is well worth checking out and using. It is well-liked by the majority of its customers.

The favorable tone of the reviews is due to many characteristics of the site. Functional elements include take-profit, stop-loss, and limit orders.
Bitsgap's Special Features
High-level security
Bitsgap's security measures follow the gold standard established by reputable trading bots (which all respectable trading bots utilize). This platform also offers additional services and capabilities to protect your account, which is unsurprising.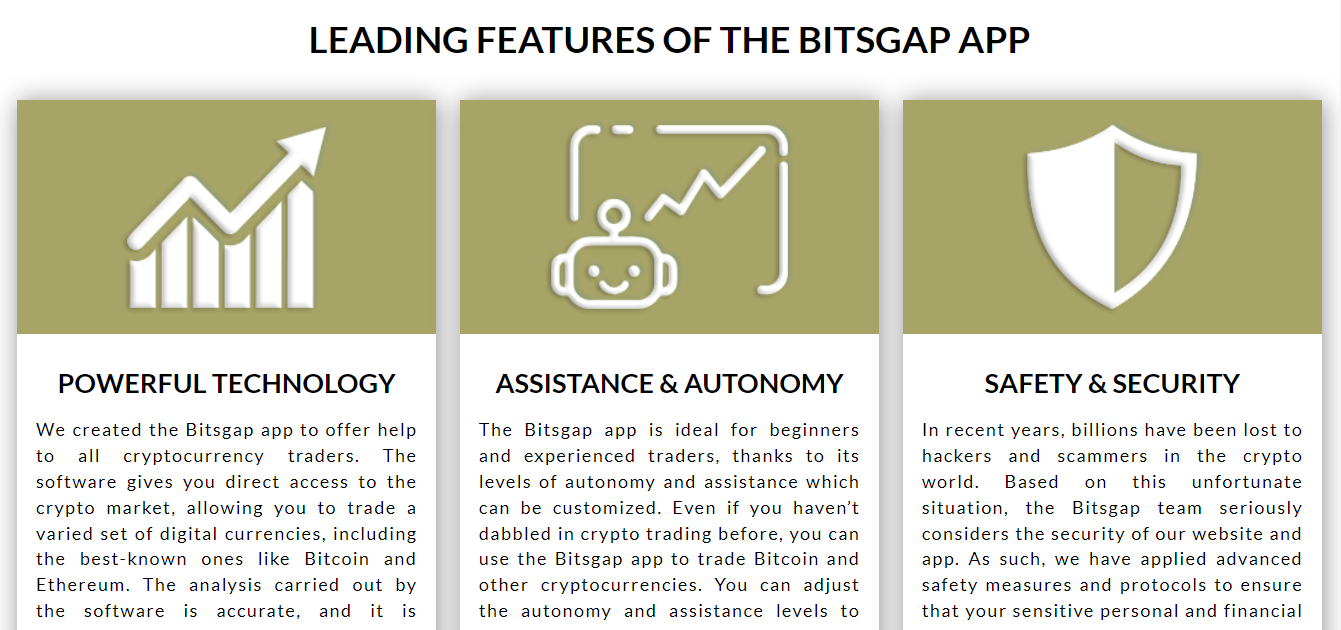 Set up two-factor authentication to protect your data, which should be standard on these apps and usually is. If you don't disable your crypto wallet's withdrawal method, Bitsgaps won't let you utilize the API. As a result, you're safe from malicious intent.
Customer Service
Check out the Bitsgap knowledge base before filing a support request. All packages include email help, but the Advanced and Pro Packages additionally include priority support.
Profitability
Bitsgap cannot and does not guarantee profitability because of the volatile and unpredictable nature of cryptocurrencies. This is a standard practice among the most reputable and trustworthy cryptocurrency trading bots.
This is what it means to act morally and ethically. You can learn money-making tactics by using the resources available. Every method isn't suitable for every situation. It's a good idea to use the demo mode to explore, learn, and find techniques that work for you.
User-Friendliness
In addition to its wide range of uses, the UI is user-friendly and straightforward to use. This interface is not only easy to use, but it is also stylish and has a number of advanced features. The app is accessible for desktop/laptop computers as well as mobile devices.

The ability to switch between day and night modes is a useful feature of the interface that protects your eyes from fatigue and watering.
According to users, the functions are simple to use on either app version.
Even the more complicated features are straightforward to use, which is a huge benefit for traders who don't have time to learn new tools.
How Do I Get Started With Bitsgap Trading?
Registration 
The procedure for enrolling is well-defined. This cycle takes less than fifteen minutes, compared to prior trading stages that could take many hours. All that is required to finish the design is a login, phone number, and email address. Following the creation of a solid mystery key to secure the account's security, the customer affirmation process begins. Your new account will be approved and active after the system sends you an email. As a result, we think Bitsgap's rapid enlistment process is fine.

The demo was used by a variety of suppliers and financial backers to demonstrate the product's true potential. It allows newcomers to practice while experts assess new techniques.
Make A Deposit Into Your Account
You're now ready to cash in on a big profit delta that has been encoded into your system. To make your initial installments, you can employ any stage's part technique, such as MasterCard, Visa card, MasterCard, and Skrill. Different payment methods allow retailers on opposite corners of the world to pay quickly using local alternatives. Our staff double-checked the system's security and compared it to stage customer testimonies to guarantee that it was secure.
Bitsgap gathers all online data using SSL, as we discovered. Money consumers may be confident that they will be able to save their concealed and following parts because they have this knowledge. The requested initial investment ($250) is the same as the stage's starting point.
Register For A Free Trial Account
Without training, no one can reach excellence, which is why Bitsgap recommends that everyone begin with a cryptographic cash demo trading stage.
Real-Time Trading
You'll be able to use the live account once you've fulfilled the processes indicated above. Click a button to enable live trading on new accounts. Create a stop-incident line on your account to get the auto trader to work.
Conclusion
Bitsgap is a one-of-a-kind bitcoin trading bot that is efficient, time-saving, and trustworthy. It's worth a shot because this platform integrates so many features to offer a one-stop-shop for traders.
If you give it a shot, you might discover that it appeals to you and that you start using it on a regular basis. We recommend Bitsgap as one of three cryptocurrency trading platforms. After giving it a try, we hope you appreciate it as much as we do.
FAQs
1. What Is The Cost Of Using Bitsgap?
Withdrawal fees and limits are not imposed by Bitsgap. You have complete power over your financial decisions. Fill out the withdrawal request form by going to your dashboard and selecting Withdrawal from the drop-down menu.
2. Does Bitsgap Provide Training For Newcomers?
The demo trading feature allows clients to get a feel for how robots work. It shows continuous transactions that do not require the usage of real money.