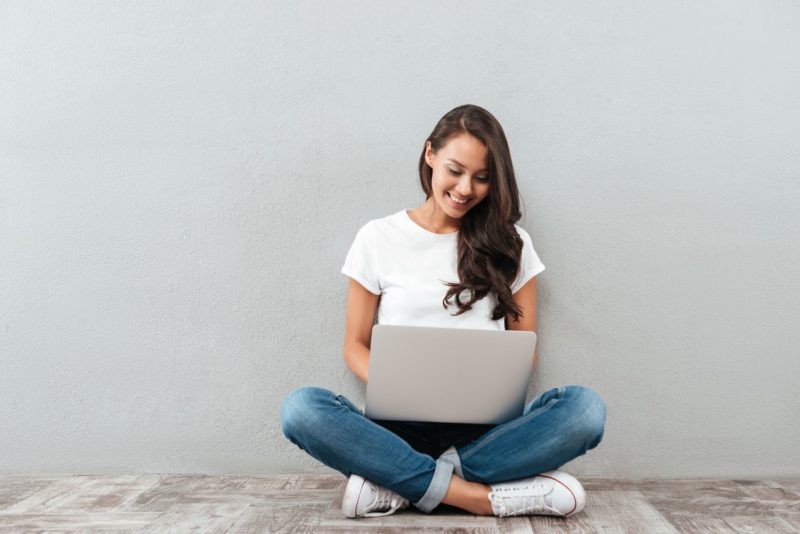 How To Start A Blog In 2020
Blogging is one of those things everyone wants to do but few get around to doing it. Whether it's because of insufficient information, lack of clarity, or certain preconceptions about what it means to be a successful blogger, it seems that there are a host of obstacles, both real and imaginary, along the way.
In this step-by-step article of how to start a blog, I'll guide you on how to get started, all the way up to writing your first post. Naturally, this does not include the time you'll spend writing the posts themselves (no good content takes just 10 minutes to develop), but rather the time it takes for you to set up the website where you'll be posting content.
What Do You Need To Start A Blog?
Not a lot. All you are going to need a blogging platform (WordPress), a domain name (BlueHost) and a web host (BlueHost). Possible editions additions include themes and plugins. If you want to hit the ground running and make a good impression I'd probably spend the $50 and get a cool looking theme, but it's not absolutely necessary at this stage.
Why Even Start A Blog?
A big reason why blogging is so popular at the moment is because it allows people to work from wherever they want. Making money while staying at home to take care of a new-born, exploring the world as a nomad, or just doing whatever it is that you want, are all powerful drivers for those looking to get into the business. Towards the end of the 2010s, we've transitioned into a new era of employment. Flexible labour timeframes, working away from the office, and eliminating both the down-time and stress associated with long commutes have become significant concerns for job seekers, and let's not get into the impending catastrophe that job automation and AI will bring.
Running your own blog really can provide a host of truly incredible benefits. As well as the aforementioned benefits, look at 10 reasons that make owning a blog is truly awesome:
No inventory which equals savings of hundreds of thousands of pounds compared to an E-commerce business
No inventory means fast access to cash, it ca get reinvested much quicker and you can diversify faster
Your money is safer, it will either sit in your business account or be sent to your holdings company from which you can compound
No fixed staff (you may outsource some freelance type work or have a virtual assistant)
Complete freedom and flexibility – I normally write at midnight, weird I know but it's quiet and there are no distractions.
The day is yours – In general, I get up when I get up. I haven't used an alarm for 4 years.
The scope for expansion, add digital products, courses, services, start a new blog
Feel good about what you do – the direct interaction with your audience allows you to have a positive impact on people's lives
You don't even need to be a great writer – blogs work best with a personal touch. Writing in first person narrative. Like I am now. Hello people.
You make a hell of a lot of money
And since we've broached the topic of money, there's quite a bit to go around in blogging as well. While most people who own a blog don't currently receive anything in return, those who dedicate most of their time to this project can earn anywhere between several hundreds of dollars a month to $10,000, $50,000, and much more. A comfortable, perhaps even luxurious living is possible out of blogging. But getting started is key, because 12 months will flash by and you could be well on your wage to waving goodbye to your boss.
Ok so, let's get to the nitty gritty. I've set up 4 websites now and yes there are other ways to do this, and having done them, the way I'm about to show you is the fastest and most effective way on how to start a blog. You can use separate domains to your host, you can use free blogging platforms and hosts, but take my word, this way is the simplest and most efficient way.
How To Start A Blog, Step-By-Step
1. You need a
platform

, a

host

, and a

domain name

This is the first step in your blogging journey and, as you may have already guessed, it is also an important one. Choosing the right name, the right host, and a good platform for your blog can either prove to be beneficial or detrimental to your success and outreach.

By far, the easiest option here is to go for a host that also lets you take up a domain name for free, as well as a platform that has a strong community of developers behind it. WordPress on Bluehost is one of the most popular, affordable, and easy to use combination of blogging platform and hosting company. More importantly, it also scales well, which will be crucial for your blog later on. When you sign up for this particular hosting service, you'll get the ability to choose a domain name for free. It's a three in one offer that is hard to match or turn down, for that matter.

Take your time with the name. It can be your own name or your brand's name. You need to go for something that's not already taken and that is also available on social media channels, because you'll have to use the latter to drive new readers to your blog and keep current ones updated. Make it unique and representative of what the blog is about and, in doing so, decide on a niche. It's less likely that you'll succeed with too broad a topic, such as the meaning of life, but don't go for something as narrow as types of plastic bottle caps or car wheel trims either.
2. Why you should choose WordPress
Close to a third of all websites run on WordPress. It's not just bloggers, but also major business organisations and retailers that use this platform simply because of the sheer versatility and power it makes available for users. In the content management system market, WordPress takes up almost 50%. Here's several reasons why everyone is using it and why you should also follow suit:
Free and open source. While most people might not regard this as important, the fact that WordPress is free has had a substantial contribution to its growth, following, and reputation. It's constantly being updated and there is an immense community of web developers and publishers like you that can help out in case there's troubleshooting to be done or if you have an idea you want to implement.
SEO compatibility. Enough said in the age of Google's first pages. If you're not there, you're nowhere.
Intuitive, easy to use interface. No coding skills will be required of you to manage your WordPress site, unlike the cases of the runners-up Joomla and Drupal. Basic HTML knowledge helps, but is not a must, since you can find tutorials for almost anything.
Plugins and customization. From TechCrunch to Bloomberg Professional, BBC America, Sony Music, and many, many others, people choose this platform because it's highly versatile in terms of scaling and features. Chances are, if you're thinking about a feature you want on your blog (such as interactive images), there's a WordPress plugin for it.
3. Getting started with Bluehost
For newbie bloggers, Bluehost's basic plan is more than enough to cover your hosting needs. With 50 GB of website space and 100 MB of e-mail storage, this is a good set-up to get you started. After you've selected the basic plan, Bluehost's website will ask for a domain name, like so.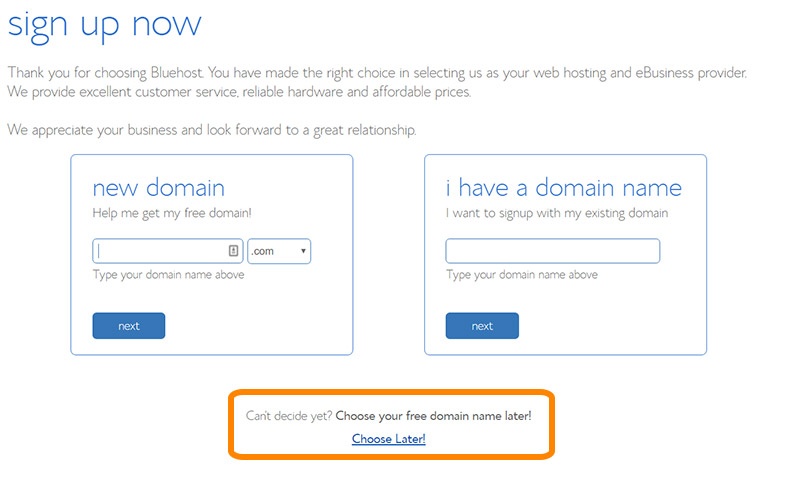 For those who already have a domain name, you can sign up with your existing one. Once you've clicked next, you'll be asked to fill in your information. Then, you can scroll down to the detailed section about the subscription package. Make sure basic is checked and that you uncheck all of the other options.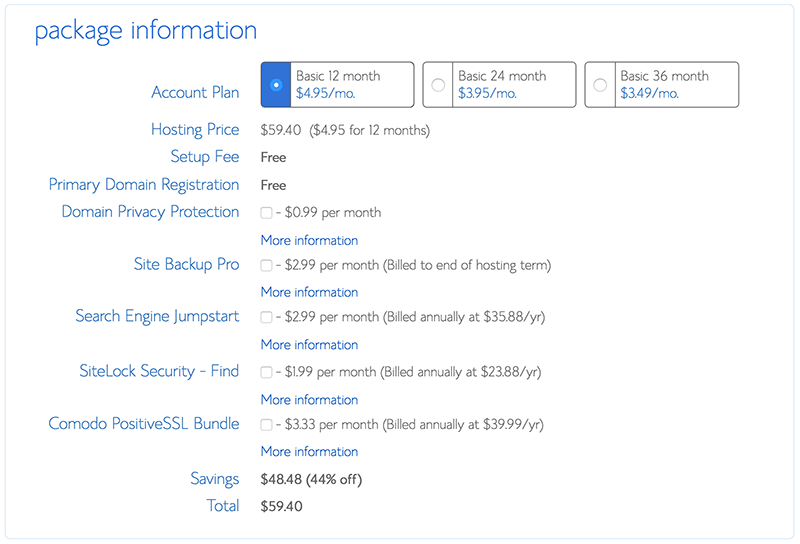 Domain privacy protection is useful for protecting your privacy information, but not mandatory for the process itself.
4. Installing WordPress on your domain
From the account you've created on Bluehost, all you have to do to install WordPress on your domain is to go to the "Website Builders" menu and select "Install WordPress". Make sure you go with the free option.

Press "Install," then select the domain where this will be done.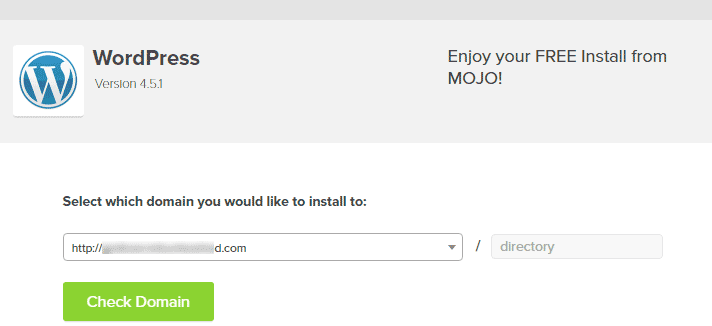 For the last step, you'll be asked to enter the name of your site, as well as the credential for the administrator account. Don't be too lazy with these and make sure the account details are unique and complex. Also, write them down. Check the "Automatically create a new database for installation," and the "I have read the terms and conditions of the GPLv2" boxes. The latter is about general public license and it basically guarantees you have the right and freedom to run, share, and modify the WordPress software.
One more thing: once WordPress is installed, you should first go to "View Credentials" and save, as well as open the "Admin URL." This is the address you'll be using to log in on your website as a developer in order to post and modify things.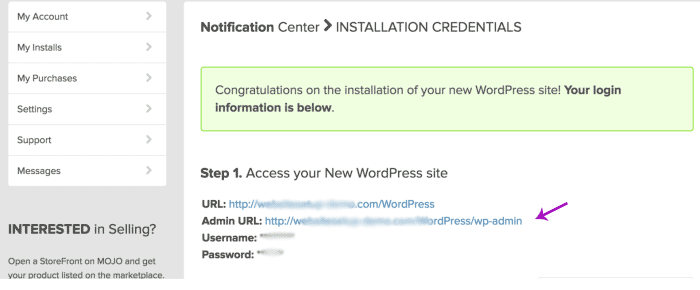 You might be redirected to a themes page as soon as your installation is over. This is not necessary at the moment, as there are a lot of great themes free of charge.
5. Looks are important – WordPress Themes
WordPress is now installed on your domain, but you need a theme. This is the overall design that your blog will have. You'll invariably go through several such themes through the lifetime of your blog and although aesthetics is important, you should prioritize responsiveness (how well it and fast it behaves for other users), ease of use, and mobile-friendliness.
Use the admin URL from before, log in, and go to "Appearance." Under this, you should find a "Themes" tab.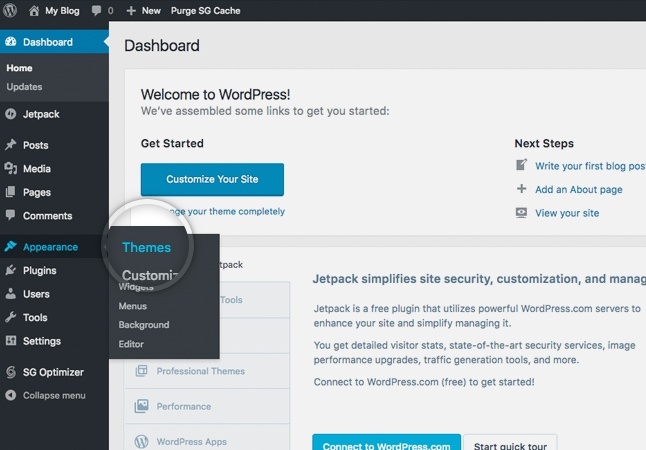 You can select "Add New," and scroll through the "Popular" tab to see which ones are currently trending. If you intend to also become a developer, this is a great place where you can share some of your best work, as well as get paid for it. Because there are literally thousands of themes out there, it might be best to narrow down your choices with some planning.
Using the feature filter, you can fine-tune the search option to show you only those themes that have the characteristics that are most important for you. For example, you might want your layout to be able to handle two or three columns, whereas a custom background and custom menu option can help integrate some ideas or features from your brand or content into the make-up of the site. For an even more extensive catalogue of stylistic and professional themes, you can also check out Themeforest (which I would highly recommend).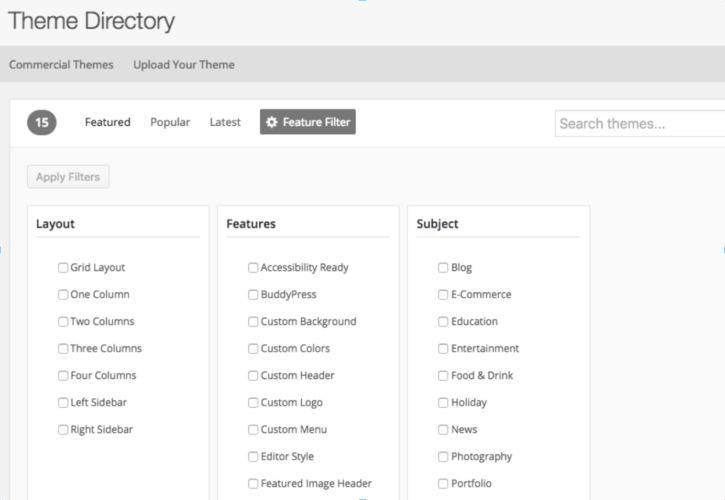 Remember the adage "less is more." This is your first theme, so stick to the basics. Make sure the fonts are legible and that the colour spectrum matches your needs and preferences. Once you have your list of must-have features, you can start comparing free themes with premium ones at your leisure. Just make sure you test them thoroughly!
6. WordPress Plugins
Since we've mentioned testing themes, there's a plugin called "Theme Check" that helps you benchmark the efficiency of a particular theme. Plugins are essentially small software components that you can add to your WordPress site in order to expand its list of features and functionalities. There are over 40,000 of them, so chances are there's one for every blog feature you can think of.
You'll find the plugin menu in your Dashboard, under the "Plugins" tab. Although you shouldn't bother too much with plugins at this point, several things are worth considering from the get go, such as a security plugin (i.e. Wordfence Security) and something to help out with SEO, search engine optimization (i.e. Yoast SEO). Just make sure to check the reviews on everything you buy and install on your website, as well as the reputation of the developer (s).
7. Master your craft
The key to long term wealth and success is to never stop learning. There's enough info to consume on this topic for a lifetime. Getting traffic to your blog will make or break your income potential as well as harnessing the power of your email lists. Get busy promoting your content on social media sites and if you can add some YouTube to the mix then that would be great. Just keep going, keep improving and don't quit. But importantly than all of that, is to make a start.
Bonus Tips for becoming a successful blogger
Subscribe to The Money Pig Email list to keep up to date on all future blog posts, step by step guides and hot tips
Join FB community group to ask direct questions if you get stuck
Do your own research within your niche, find out what works well for others and apply that to your own blog
Outsource when feasible to give you time to focus on what you are good at
Learn all about SEO and how to drive traffic to your website
How To Start A Blog Summary
Don't forget people, anyone can be a blogger. Affordable hosting plans and an easy set-up process ensure there is basically nothing standing in your way. However, making money from your blog or actually developing this from a hobby into a full time career will take time, dedication, willpower, and some financial investment. Although you likely won't have to invest as much as with other businesses, the time you'll have to spend writing, tending to the blog, and establishing a social media presence can also be thought of as a financial commitment. After all, you know what they say, time is money. Once you have enough traffic coming to your blog, you can make enough money to support yourself your family. This is done through paid advertising, sponsored posts, affiliate marketing and possible courses. The options are plentiful.
As obvious as this sounds, statistics show that the people that spend more time on developing their blogs are also the ones most likely to start making money from them. The typical successful blog post requires around 5 hours of work and its length is an average of 1,000 words. Although if you want to make it a good'en I'd shoot for 2,000. Sure, you can hire someone to do the writing for you, but, regardless of how good they are, they won't have your commitment and drive.
And in my opinion, blog writing is best in first person, talking to the reader. Believe it or not, the reader will want to read your tone, your sense of humour, your caring nature. After all someone else can't really write about your experiences can they? And if they do, it's missing its point. However, you can (and probably) should, in time, develop your writing with courses, professional material, and an editor. These will definitely pay off.
If there's one tip that might take you all the way from zero to hero, it's that you should create your blog out of passion. In other words, do it because you love it, not for the money itself. I know it sounds sad and you get judged if you say this but for me…'I love learning how to make and invest money' Not for the buying of material things but for the access and opportunity it can give. And what gives me a buzz even more so is helping other people leave work and make money online. I've done this for over 70+ people now, and although it takes longer to earn money than other avenues, blogging is my favourite recommendation for its scalability and mainly its longevity.
So to recap, sign up with Bluehost, choose a domain and host plan, install WordPress and off you go. I'm thinking of doing a super detailed course in the future on everything you need to know once your blog is up and running so stay tuned! Let me know if this would be helpful. In the meantime, sign up to our newsletter so that you don't miss any posts and exclusive tips about making money and blogging.