Meet our cat Olympus. We got this cool little dude only 6 months ago and he is most intriguing. He turns taps on, he plays fetch and he has figured out that helium balloons hit the ceiling if you don't anchor them inside your little cat house! He's fluffy and like being tickled…..Ok, I hear ya, what has this got to do with how to be successful?
1. Focus
Olympus is a predator, he is born to hunt, kill and eat. His claws are super sharp, he has huge canines and his senses are second to none for prey detection. Whiskers on his face, even his front legs (bet you didn't know that), a great smelling sense and eyes that see extremely well in low levels of light.
But for all of these qualities, the cat is a successful predator because of its ability to FOCUS. Focus on one thing. Once Olympus sees a fly, a ladybird or your dinner, that's it. Nothing else matters and he will stop at nothing to finish the job. He won't be distracted with toys or tickles and he keeps the main the thing the main thing, never switching his attention of interest.
The ability to focus on one goal for the longest period of time is one the top attributes of becoming successful, at anything you choose to do in life. I would personally put it in the top three, I would put belief system/paradigms as number 1, but that's for another day.
You see how many of us procrastinate regularly? How many of us have shiny object syndrome? We dropship one day, then Amazon FBA the next and 2 months later nothing works and we've given up. Sound familiar? Imagine if you were to spend 2-3 hours every day focused on one thing. And we spent 6 months of doing that. Phone down, push notifications off, Facebook off, Youtube off and pure focus on mastering your craft. Could you imagine how good you would be and how much you would learn in 6 months, 12 months and in 2 years? How would other people be able to compete? They wouldn't.
Pick a goal and get laser like focus.
2. Act fast
Olympus is a big time trigger puller. He knows when things aren't safe and he knows when it's time to pounce. This can be translated to a lot areas in our life not just business.
When he knows he has the edge and he can see you but you can't see him. When he's finished his 10 metres of smooth and silent stalking….. BANG! It's fight or flight time and he goes for the kill, much like a big cat. Once that opportunity is there, diddle whimpus (his nickname) pulls the trigger and seizes the opportunity with both paws and he does it with frightening speed.
And do you know why? Because opportunities don't come around all that often and they don't come around when you would like them to, but one thing is for sure. When the opportunity knocks, the cat answers the door. Not our front door, he's still learning that trick.
So when your opportunity knocks, not only do you need to take it, but you need to implement with the speed of Olympus. It may be a girl you want to ask out, it may be that Amazon course you've been waiting to buy or it could be to sell the house and move. The problem is a) if you don't take it now, she may not be in front of you again and b) if you're thinking about starting that business, well so are 100 other people, you can't let them be first or there's going to be no food left at the buffet.
3. Take your health seriously
Keeping a healthy body, means a healthy and clear mind. It's something often overlooked one that needs much attention. Olympus, cleans himself regularly. He cleans his paws, his body and he is particular about what he eats and where he goes to the toilet. He drinks a lot (he has 3 cups on different tables) to stay hydrated and perform optimally. Whether or not he is consciously doing this, doesn't matter, it's his program and he's doing it.
So I'm not telling you to start licking yourself or cover up your poop (although a bit of air freshener is fine). I'm telling you that it's imperative to look after your mind and body. You must take care of your gut health, your hygiene, your hydration levels and you must make sure you get the right macro and micro nutrients to perform. To focus and be creative you can't do it eating Pringles and cans of Monster energy drink. Pay attention to your diet and this includes your fluid intake.
4. Be fearless
I feel that this is engrained into us by social conditioning and the educational system. We always think about what will go wrong? What if I try this but it doesn't work out? I've not done this before so I better not try. Investing is too much of a risk, best leave my money in the bank. I could ask that girl on a date but …what if she says no? If I ask a question and get it wrong, I'll look stupid. Better not ask and just never know the answer.
Olympus has the beauty of not caring what people think. It doesn't matter to him if we laugh because he didn't make his jump. And guess what, he goes for the jump and he falls. It took him 2 weeks to make the kitchen desktop jump and now he climbs all the way up to the top.
There is pretty much nowhere he can't get now. He has a certain freedom in that way. He can go where he wants, when he wants. Imagine if he didn't make his first jump because he was scared he would fall. Imagine he didn't make his first jump because he knew it would go up on Instagram and some cooler cats would laugh at him. Ask yourself the question, if nobody was watching, nobody talked about your attempt at whatever it was, would you go for it? And then ask yourself the question, why am I scared of investing, or asking the bar girl out or not buying but renting because you could use the capital elsewhere. If you ask the question, you can gain understanding, and again I believe most cases of fear are due to lack of knowledge. Which leads me on to the next point……
5. Be curious
Olympus wants to know everything about everything, he is super curious as are all cats. He watches the flow of water from the tap and tests how he can use it to clean himself. He wants to know everything about our guests, he wants them in his smell database, he wants to know which ones stroke him, which ones feed him. He climbs in every box, he looks in every cupboard, he wants to know how to get the coffee capsules out of their tray (which he has succeeded) and he…….you get the point.
Olympus will always be curious, whatever his age. He'll always play with things, touch them, prod them and as a result he figures things out, he gets answer. So what does this have to do with us human lot? Well for some reason, we stop asking questions. We think it makes us look stupid. Something engrained in us from school. We'd rather not ask a question and not know the answer, than ask a question, 'look stupid' and then learn something new. If you have an entrepreneur friend and you want to get into business then ask, ask, ask. If something doesn't seem right, then ask the question, why is this thing a certain way? For example, how is money made? What is the point of the education system? Why do people on 800 calorie diets still not lose weight? Why am I 35 and in debt?
You see the thing is, when you ask questions, they tend to get answered. And when you get answered questions, you get knowledge. And knowledge is priceless. Knowledge and the application of it can make you as successful as you want to be.
6. Be persistent
The only annoying thing about little Olympus is that he's always pestering after our food. If you have tuna, then you're lucky to get out alive. If you block him with the right hand, he goes left. If you put a pillow in front of your plate he goes over. If he can't get around or over, then he'll climb from the back. As long as he can smell the tuna, he will never ever stop until he's got some or until it's all gone.
The lesson to be learned here is to never give up. You may not break through the first 6 months or the first year, but if you're doing the right things, keep going. You will get knocked down, knocked back and knocked out in business and in life. But the winner's keep going. If you are persistent and you keep learning or keep trying, the odds are stacked in your favour. According to a study by the business insider, one of six most important factors voted for by self-made millionaires was persistence. Be tough and keep going, things don't always happen when we want them to, but if you keep pushing, they will happen.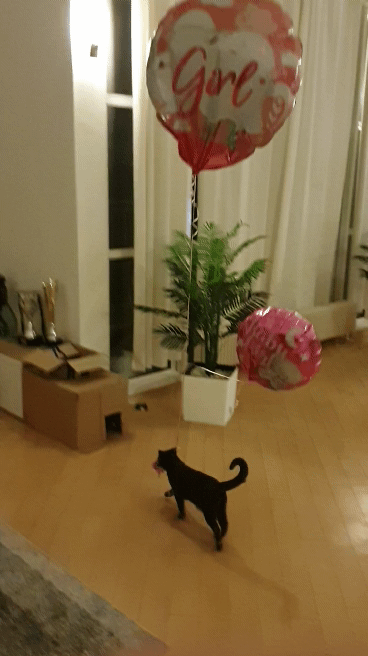 7. Solve your problems
If there is a ball and the ball is in the box. And the box is in another box, and there is a chair in the way. Olympus will figure it out. He'll go left, then right, maybe under, over whatever it takes until he figures a way. I've watched him plan his route to the highest point in the apartment and he's now solved the problem of his need for flowing water by figuring out how to turn the taps on!

You have to be mentally strong if you're going to be successful, and that's goes for success in anything in life. Most things come down to: There's a problem (money, relationship woes, health issue), you need to solve the problem and move forward , this equals success. Or; There is a problem, pretend said problem doesn't exist (just don't look at your bank balance), this develops into a huge problem further on (house is going to get repossessed), you move backwards, suffer pain and move further away from your goal. It doesn't matter what the problem is, you must always look to solve it. In my experience problem solving is is absolutely vital in life. There's normally 3 solutions to any given problem and I'd suggested always to write them down. Things are easier to decide upon once they're laid out in front of you. Then you can choose what to do about it, and focus on the solution.

So there you have it, if you want to be successful, all you've got to to do is be like our cat.