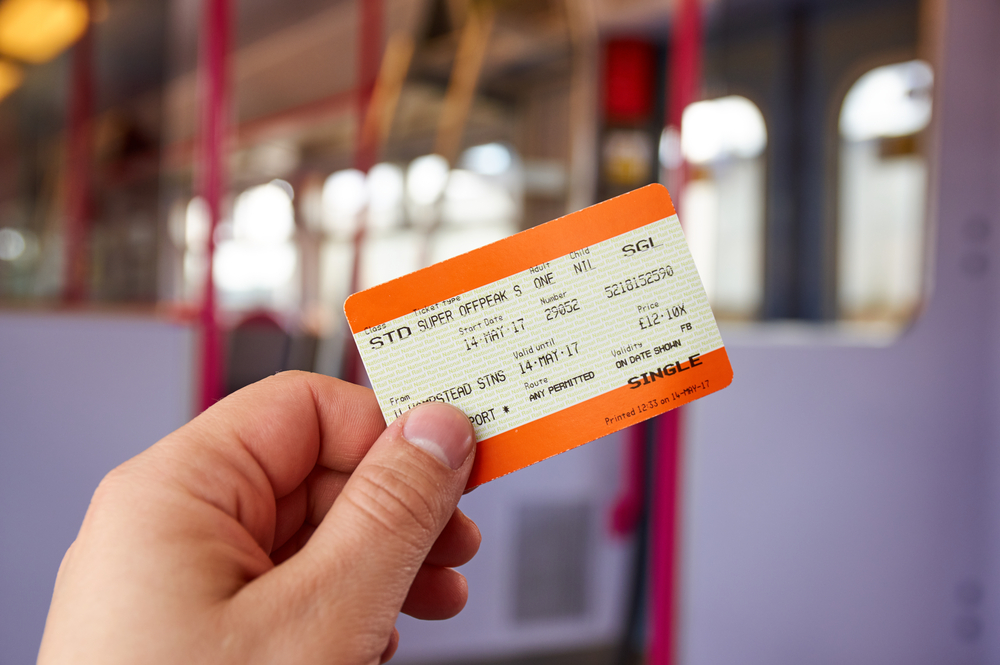 How To Get Cheap Train Tickets
UK's advanced train system seems to come at a price when you look at the train fares. They can be so expensive that sometimes, airfares to neighbouring countries are more affordable than daily train tickets.
Getting to work via the train can be expensive, with UK citizens spending an average of £1,000 annually for fares. And with commuter rail fares posing to increase by as much as 2.8% this year, it's necessary to squeeze out every discount you can get for your daily travels.
To help you save more money on public transportation, here's an extensive guide on how to get cheap train tickets.
1. Book Ahead Of Time
It's common knowledge that to get cheap train tickets, you need to book them ahead of time. But since everybody knows this, you may have a hard time getting tickets even if you reserve them 4 weeks before.
The trick is to move the timeline further and book them 10 to 12 weeks in advance. Some operators like the London North Eastern Railway even release tickets 24 weeks ahead for specific routes.
Check how far you can book ahead of schedule by visiting the National Rail's chart. Register also with Trainline to get alerts when bookmarked routes have released advance tickets. Trainline also has a mobile app you can utilize for more convenient booking.
2. Last Minute Deals
Even last-minute purchases can get you cheap train tickets.
If you're scheduled to depart tomorrow, you can still book tickets today before the cut-off time and save money in the process. Operators have different cut-off times, but they mostly fall under 6 PM or 11:59 PM. With CrossCountry, you can even book 15 minutes before departure and still avail discounts.
3. Split Tickets
Splitting your journey into smaller components instead of riding a single line to get to your destination can get you cheaper train tickets.
For instance, you've booked a direct line from London to Edinburgh. It would have been more cost-efficient if you split your journey into 2 parts: London to York, then York to Edinburgh. If you sum up the fares and compare the costs of the two methods, you'll be shocked to arrive at a cheaper rate with the split-ticket journey.
But there's a risk with this method for getting cheap train tickets. If just one train line gets delayed and you need to change trains, you may have trouble with the rest of the trip. You might not be able to catch the next train, forcing you to just buy another ticket to get to your destination.
When reserving split tickets, make sure you allow time for delays to reduce the risk of missing the next train.
But there are instances when you'll chance upon a single train that will make a stop on all the points you split your ticket at. This means you can stay on the same train the entire time until you get to your destination. Congratulate yourself as you've gotten a cheaper train ticket without having to switch trains.
Splitting train rides can be quite tricky, but you'll save a significant amount of money compared to riding a direct line. You'll have to sacrifice convenience too since you may have to switch trains on designated stops.
Splitting tickets can be unconventional but studies show that you can save as much as 90% on fares through this practice. Yes, it can be time-consuming to schedule your split ticket, but it can be worth the effort, especially if you're traveling long distances.
4. Take Alternative Routes Or Train Operators
Operators often compete on certain journeys by offering lower fares on specific trips they make. You can benefit from their competition by getting the cheap train tickets offered. But in exchange for saving a great amount of money through this method, you may have to endure longer travel times.
5. Travel During Off-Peak Hours
Business hours from Mondays to Fridays are the peak times every week. Peak hours start at 6:30 AM to 9:30 AM, then 3:30 PM to 6:30 PM. Sundays may not also be the ideal time to travel since the influx of weekend travellers pushes the fares up.
Travelling during peak periods is not only a hassle because of the crowded wagons but also expensive because of the high-demand schedule. The only advantage you can get from travelling during peak hours is that you get to enjoy unrestricted traveling and you can choose whichever train line is available at that time.
You can get cheap train tickets by booking off-peak and super off-peak hours. The peak, off-peak, and super off-peak hours of each route vary, so it's best to check the services and schedules through Trainline.
6. Get A Railcard
If you have a Railcard, you'll be paying less for the same journey compared to when you buy a regular ticket. This is one of the best ways to get cheap train tickets for your travel.
There are several types of Railcards available in the UK.
For just £30, passengers who are 16 to 17 years old can get the 16-17 Saver Railcard and take advantage of up to 50% off rail fares.
The 16-17 Saver can be used any time of the day without restrictions or minimum fare. You can traverse the whole National Rail network anytime, regardless if it's peak, off-peak, or super off-peak hours.
You can't use the Railcard to avail discounts on Caledonian Sleeper and ScotRail services. You also can't use it to get additional discount on certain promo offers.
A 16-25 Railcard can save you up to £200 on train fares annually. The card can be used to get cheap train tickets for standard, off-peak, or super off-peak hours. It can also be used to book First Class Advance tickets at a discount.
Read the fine print to know more about the minimum fare restrictions for using the 16-25 Railcard. Usually, minimum fare requirements apply only during Mondays to Fridays, except on weekends and Public Holidays from June to August.
The 16-25 Railcard won't apply to Season tickets, Eurostar tickets, First Class fares, and certain promotional offers.
For adults 26 to 30 years of age, the 26-30 Railcard is the solution to get cheap train tickets when travelling across Great Britain. Discounts apply on regular, off-peak, and super off-peak times. It can also be used on Gatwick, Heathrow, and Stansted Express lines.
The 26-30 Railcard discounts won't apply on Eurostar and Caledonian Sleeper tickets, as well as First class fares.
Family & Friends Railcard
Adults can save as much as 1/3 off train fares, and their kids up to 60% off on ticket costs with the help of the Family & Friends Railcard. This can save as much as £150 on travels annually.
This Railcard is like a combination of the Two Together and the 16-25 Railcards except you only need one card for the whole family to avail cheap train tickets.
For frequent travellers in the areas in London and the South East, the Network Railcard can take off as much as 1/3 off train fares. You can save an average of £190 annually on this Railcard travelling on all the stops across 16 counties covered by the Network Railcard Area. Discounts can also be extended to up to 3 friends and 4 children who'll travel with you.
The Network Railcard isn't valid on First class and Eurostar services. Discounts can't be applied on journeys with origin or destination outside the designated Network Railcard Area.
This Railcard is for people aged 60 and above. It can save you as much as £125 a year by slashing off a third from regular train fares.
The Senior Railcard is valid on both standard and first-class tickets anytime, including off-peak and super off-peak hours. It can also get you cheap train tickets on Caledonian Sleeper and most Rail Rovers tickets services.
The Senior Railcard has only few restrictions like using it in conjunction with special promo offers or in travelling between London and the South East area during morning peak times.
For couples or travel buddies who often travel together, the Two Together Railcard slashes up to a third off train fares for each person. The card costs only £30 and that covers already two persons.
The Two Together Railcard can be used anytime except for morning peak times. It can be used to book cheap train tickets for standard and first class on either off-peak or super off-peak schedules. It's also valid for Caledonian Sleeper and Rover and Ranger tickets.
One-year Railcards can be purchased for around £30, while three-year Railcards are priced around £50 to £70. The latter is the more practical option, especially for frequent travellers.
Railcards entitle you to a discounted train ticket purchase. You can get as much as 1/3 off the price for an adult fare, while you can pay as much as 60% off the ticket for a kid's fare.
Aside from the savings on cheap train tickets, you'll also get exclusive access to rewards and discounts from partner stores, malls, and services. Some of them include 3-month free membership to Gourmet Society, 50% discount on theatre tickets, and a 3-month free membership to tastecard for just £1.
Each Railcard has its own eligibility criteria, so make sure you check them first before you get one. Some Railcards can be used regardless of peak and off-peak hours and you'll still qualify for the cheap train tickets. Some of them, though, can be used during off-peak periods.
Instead of bringing the physical Railcard, it may be more convenient to use digital Railcards stored on your smartphone. It works like an e-ticket you can readily show for inspection through a mobile app. All national Railcards are available in digital format and you can purchase them from the Railcards website.
Purchase your Railcard online or at any National Rail office. Cheap train tickets can be bought online or in-person, but you must present your Railcard on your scheduled journey to validate your ticket.
7. Buy Season Tickets
Buying tickets for the same journey several times a week or a month is incredibly more expensive than getting a Season ticket.
If you often travel to the UK's major cities, the practical way to get cheap train tickets is to purchase season tickets. They're ideal for working people doing short and medium distance travels on the National Rail network.
For frequent travellers in the London Travelcard area, Travelcard season tickets will get you cheap train tickets you can use anytime on the London Underground, DLR, and London Trams.
Use the Season Ticket Calculator to get an estimate of how much you can save on Season tickets compared to buying the same single journey ticket.
8. Check For Single Journeys
Sometimes, it's cheaper to book two single journeys than getting a return ticket package. This may not always be the case, but you can get lucky and squeeze every money you can save on more affordable fare deals.
9. Sign Up With Cashback Sites
Cashback sites like TopCashback can save you money on specific ticket purchases online. Just register with them and browse through the deals available on the site.
Every time you buy a deal through the cashback website, the purchase is recorded to your account. The corresponding cashback amount is deposited to your account and you can withdraw this after meeting certain requirements.
Trainline has a cashback offer on TopCashback which gives back up to 5.25% of the amount spent on train tickets purchased through the site.
RELATED: PARIBUS REVIEW – TOP CASH BACK APP FOR ONLINE SHOPPERS
10. Avoid Going Through London If Possible
London is a very busy city and the demand for public transportation is high. This is the reason why rides that make a stop at the city are mighty expensive. As much as possible, avoid journeys that go through London. Get cheap train tickets that use alternative routes to get to your destination. You'll be amazed at how much money you'll save by regularly doing this.
11. Purchase Groupsave Tickets
Travelling in groups can get you discounts through Groupsave tickets. Most train companies offer up to 1/3 off in fare discounts to groups of 3 to 9 people travelling together.
Participating train lines include Chiltern Railways, Gatwick Express, Great Northern, South Western Railway, and Thameslink, to name a few. Some services like Scotrail has some restrictions and schedules when the Groupsave discount can be availed.
The discount is applicable to journeys made during off-peak hours. Make sure that all members who travel to a destination are the same people on the return journey to avail of the discount.
12. Search For Hidden Discounts
Train companies usually have promos and discounts promoted on their website which you won't usually find in ticket booking sites. You may think it unfair but think of it as a reward for those studious enough to go through each company website and look for cheap train ticket deals.
13. Book With Megatrain
The website offers cheap train ticket deals provided by East Midland Trains. With prices starting from as little as £1 and a 50p booking fee, megatrain can help you travel from one city to another at affordable rates.
It can be hard to find the deals you need, though, but it's worth the effort since you can get massive savings from the service.
14. Buy Tickets In Bulk
You can save on cheap train tickets by buying packaged deals. The journey on these deals are usually longer to get to a destination, but they're way more inexpensive than buying a direct line ticket.
TicketClever is the best site to get packaged ticket deals. They don't charge a booking fee and they also offer advanced fares so you can get even bigger discounts.
15. Save On Booking Fees
Popular online booking agents charge a small fee for their services. Although small and almost negligible for single bookings, they can sum up to a huge amount for frequent travellers.
To save on booking fees, purchase your train tickets directly from train operators. Train operators can book any journey with any operator at the same discounted price, minus the booking fee.
16. Collect Refunds
Train delays may entitle you to a refund. You won't automatically receive your money back, though, since you must put up a claim first.
The refunded amount usually depends on the train operator you're travelling with, the ticket type you're holding, and the length of delay. Train companies enforce different refund policies, so better check details about this on the Passenger's Charter found on their website.
While some operators still abide by the original refund formula indicated in the Passenger's Charter, most train companies follow the Delay Repay national scheme.
According to the Delay Repay arrangement, delays or cancellations causing the train to arrive 30 to 59 minutes behind schedule, entitle you to refund up to 50% of the fare. If the train is late for more than an hour, you can claim up to a 100% refund on the paid fare. Some companies like Thameslink can give refunds if their trains arrive 15 minutes behind schedule.
If the delay or cancellation is caused by planned engineering activities, you won't get a refund. Some operators won't also give a refund if the delays are caused by factors outside their control like abrupt weather changes.
Conclusion
There are numerous ways to save on UK train fares. To get cheap train tickets, you must spend time looking for better deals and you must plan trips ahead of schedule. But the hassle is all worth it, especially for frequent travellers. Savings on cheaper train fares can amount to hundreds or even thousands annually if you maximize the options available.