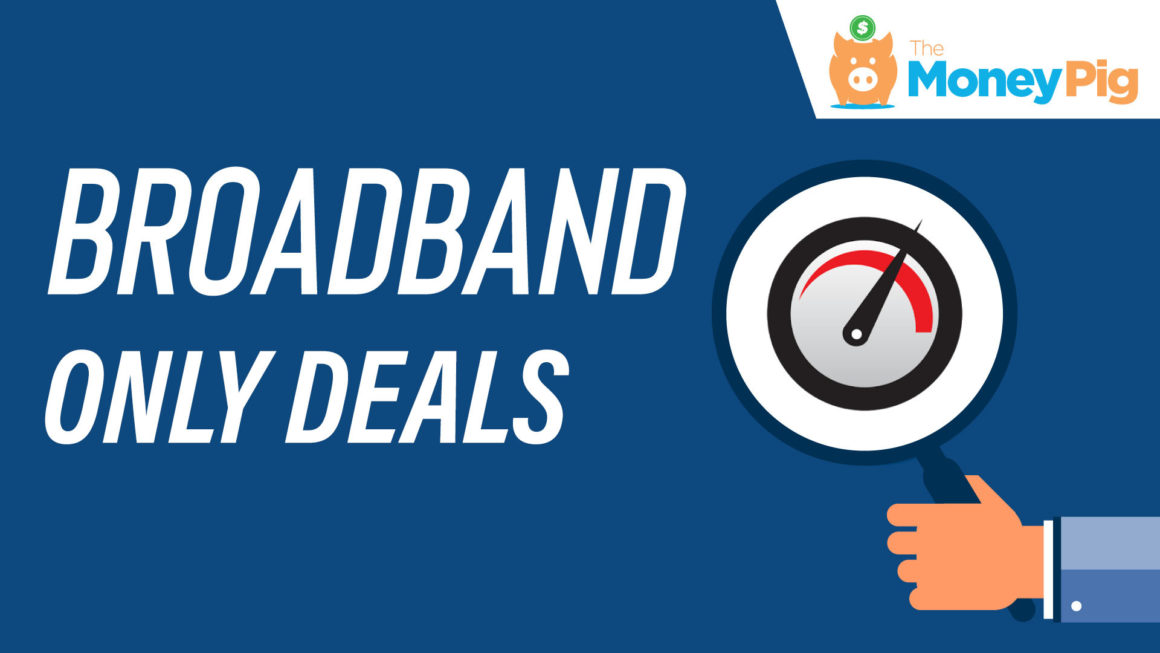 There's much to consider when shopping around for a new broadband deal. Having a large number of internet service providers (ISP's) in the UK can make finding a great deal seem intimidating. However, it's never been easier to find fast broadband at a great price!
Increasingly, savvy consumers are finding that they can get a better deal by opting for a broadband only package.
What are broadband only deals, and why might you consider getting one?
Remember you can compare all broadband deals here at The Money Pig!
What is a Broadband Only Deal?
Broadband only deals see you take out a broadband service on its own. You don't take out a bigger bundle package that includes home telephone calls, TV services, or in some cases even a mobile phone contract.
Broadband only deals are great for anyone who needs internet access but isn't interested in tying themselves into the paying for a bundle deal for services they'll rarely use. If all you need is internet, a broadband only deal makes the most sense from a value perspective.
Unfortunately, taking out a broadband only deal isn't always as simple as it sounds, or as it should be. Different ISP's define broadband only differently, so it's crucial you know what you're looking for.
The most common consumer interpretation of broadband only deals is broadband without a telephone landline and line rental costs. However, with the vast majority of ISP's, you'll still need a landline, even if you'll never make an outgoing call or give out your phone number.
Look out for the following terminology when you're seeking out broadband only deals.
Broadband Only, Not Including a Telephone Landline
Do not assume this is what your broadband only deal will look like. Very few providers can offer broadband without a telephone line.
Broadband Only, Including Telephone Landline and Line Rental
This is what most broadband only deals look like. The overall monthly cost will typically have line rental built-in. However, you won't have to pay for a landline calls package unless you want and need such services. ISP's are increasingly offering pay as you go landline deals that let you make calls at a reasonable price if you need to. However, if you will make many calls from your landline, then it's worth adding a calls package to your broadband deal.
Mobile Broadband
While mobile broadband is most commonly associated with "on the go" internet services such as dongle plans, many people utilise mobile broadband services at home. Some ISP's, including Three, offer home broadband on a similar basis to a mobile broadband service, providing internet via mobile data network rather than cabled internet.
Which UK ISP's Offer Broadband Only Deals?
In recognition of the flexibility consumers want from their technology and services subscriptions, most ISP's now offer broadband only deals. You will still pay line rental for most of these services. However, this is typically included in the price, and competition between ISP's ensures there is excellent value to be found.
In addition to Three's wireless home broadband option, many UK ISP's are moving into the hyperfast broadband space. However, as of June 2020, Virgin Media is the only ISP that can offer pure broadband only with no wires or line rental. Virgin Media delivers broadband via its network rather than via BT Openreach.
Are There Any Disadvantages to a Broadband Only Deal Without a Landline?
The most significant disadvantage of moving to a 100% broadband only deal is that you won't have use of a landline telephone if you need it.
While most people rely on their mobile phone these days, a power cut or disruption to your mobile network could leave you with no means of communicating with others. If you couldn't charge your phone or access your mobile network, a landline could be vital in the event of an emergency or needing to contact family and friends.
Can I Get Fibre and Superfast Broadband Without a Landline?
If you're determined not to pay for a landline, you currently have three options:
Check if Virgin Media offers services in your area. When you use our broadband comparison tool, let us know your postcode, and we'll show you the ISP's that can provide broadband only deals in your area. Virgin Media is the only ISP that can offer you wired fibre broadband without line rental.
Use Three's home wireless broadband package. If you can get a reliable mobile data signal, Three's wireless broadband requires no wiring at all, other than plugging the router into the power socket!
Take out a mobile broadband package. The final option is to opt for traditional mobile broadband services. You can typically get these from a mobile network.
Would I Be Better Off with a Bundle Rather than a Broadband Only Deal?
Whether a broadband only deal offers value will depend on your circumstances, and what different service providers are offering at specific times.
If you don't watch satellite or cable TV and have no interest in doing so, a broadband only deal makes sense.
However, if you watch a lot of TV, or need a landline, you should weigh up the benefits of taking out a bundle deal. Remember it may still be cheaper to get your internet, phone, and TV from separate sources if you can get amazing deals on each service.
Shopping Around for Broadband Only Deals
If you're shopping around for a broadband only deal but need to get online as soon as possible, many ISP's offer 30-day rolling monthly packages. However, traditional home broadband packages on a short-term contract basis tend to have higher monthly costs and activation/setup fees. You may be better off choosing a mobile broadband solution in the short-term. This will save you money and enable you to shop around to find broadband only deals that suit you.