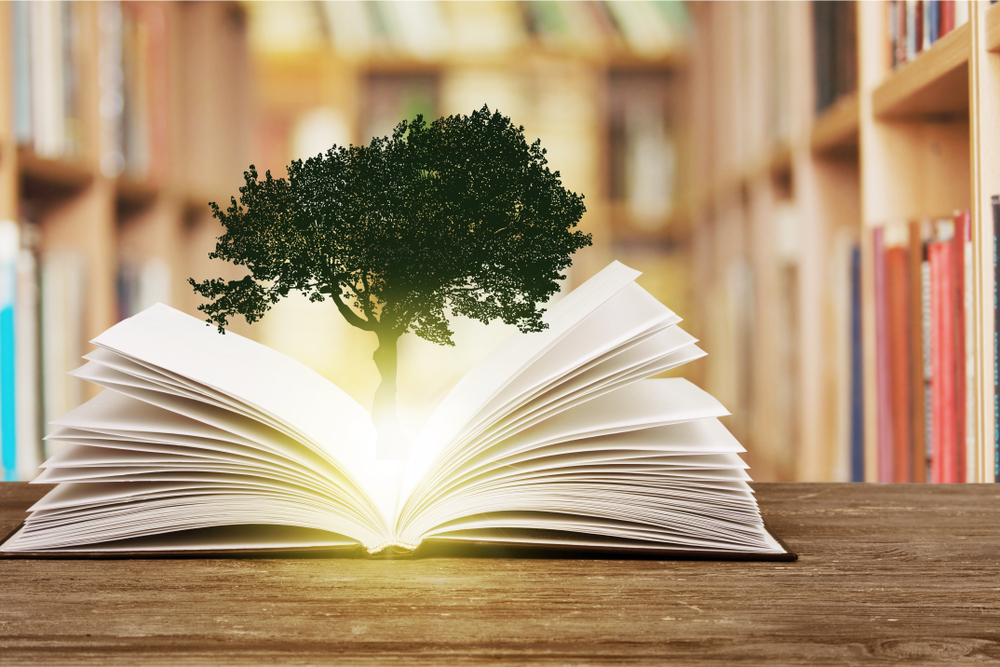 Best Investing Books
When you're just starting to learn more about investing, it's common to seek knowledge from sources you can instantly get in a snap. Good thing that the internet offers an endless supply of content on investment, including articles, news, blog posts, videos, and podcasts.
Although there are free materials on the internet that will teach you the basics of investing, nothing beats the authenticity and juiciness of the content that published investing books provide. Plus, you have it on your book shelf for a tangible reference at anytime. Things get extra special when the strategies and tips presented come from renowned investors who have actual experience in the financial industry.
So, to help you find which books to read first, we've come up with a list of the best investing books that will guide you through your investment journey.
1. A Random Walk Down Wall Street
Author: Burton Malkiel
Price: $15
Burton Malkiel is an American economist who is the leading proponent of the efficient-market hypothesis (EMH). According to the EMH, asset prices reflect all available info to the public. This means it's impossible to consistently outperform the market because prices move only according to new information perceived.
A Random Walk Down Wall Street contains a myriad of information about the stock market. It presents investment ideologies, accounts on market bubbles, stock overvaluation, and an in-depth discussion on fundamental and technical analysis, to name a few.
This is one of the best investing books out there because it will make it easier for you to understand how any type of market works. It will tell you how over analysis and finding an edge to beat the market every time can largely work against your goal of growing your portfolio.
2. How To Invest In Real Estate
Author: Brandon Turner and Joshua Dorkin
Price: $15
Brandon Turner and Joshua Dorkin are big names in the real estate industry. They're also the hosts of The BiggerPockets Podcast, the #1 podcast worldwide delving on real estate topics. They talk about the niches and strategies in real estate investing that helped them achieve financial freedom.
Unlike other real estate books, this investing book won't tell you secret methods that will give you absolute success in real estate investing. Instead, you'll learn about the types of properties to invest in, proven strategies for closing deals and building your wealth through real estate selling, and actual stories on how real-estate investors managed to find success in their journey.
You'll also discover how you can start investing in real estate even while working on a full-time job. If you prefer investing in real estate over stocks, this is one of the most comprehensive investing books to read.
3. How to Make Money In Stocks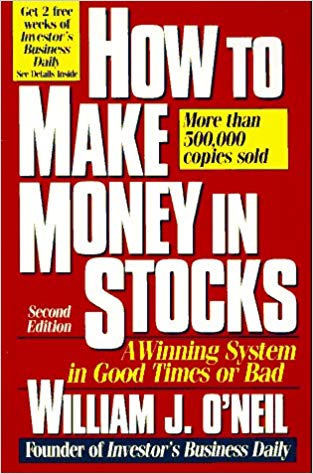 Author: William J. O'Neil
Price: $15
William J. O'Neil is a noteworthy investor and stockbroker known for incorporating computers in identifying which stocks to buy. He's also the founder of the Investor's Business Daily which is an influential newspaper and website covering stocks, finance, and business-related news.
How to Make Money in the Stocks is noted for the introduction of O'Neil's CANSLIM strategy. It's his way of evaluating which stock companies have a good potential to grow and be a top-performing brand in the industry. By combining technical and fundamental analysis, you'll learn how to find the next Apple, Microsoft, Google, or Netflix that can exponentially boom in the next few years.
This investing book is well-written and easy to understand. The concepts are explained step-by-step and there are numerous chart examples to study. This is absolutely one of the best books for serious investors who want to be in the market for the long term.
4. Little Book of Common Sense Investing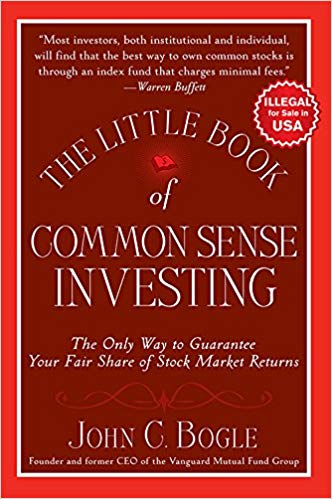 Author: John Bogle
Price: $16
Like Buffett and Graham, John Bogle is one of the most respected investors of all time. He was the founder of The Vanguard Group which is known for developing the first index fund. He advocated the superiority of index funds over mutual funds in terms of profitability over a long period.
The book discusses the advantages of passive investing by putting your money in low-cost index funds. He believes that the cost associated with actively traded mutual funds will eat up most, if not all, the gains an investor has earned. Bogle tells you why index funds are the better choice not only because of the lower fees but also due to their better diversity and more tax-efficient returns.
Reading the book is quite easy as each chapter is only around 20 pages long. Step-by-step, the book will detail the philosophy behind passive investing and how something as simple as an index fund works well for long-term investors.
5. One Up On Wall Street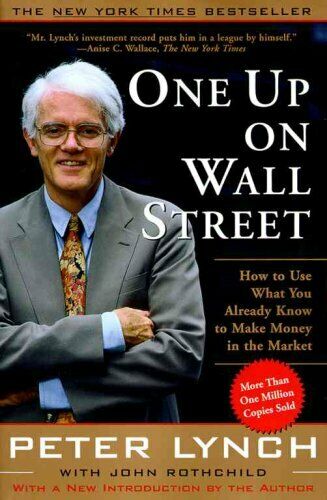 Author: Peter Lynch
Price: $14
Peter Lynch is one of the most prominent investors of all time. At the young age of 33, he was already running a multi-billion fund in the brokerage firm he was working at. His success in investing allowed him to retire by 46.
Lynch's investment style is described as one that's adaptive to the prevailing market conditions, but he stresses that the secret lies in understanding the underlying value of the stocks he buys. Just like Warren Buffett, he believes that you should invest in firms and not on their stocks.
This investing book is for those who are serious in making money through the stock market. It will teach you the investment theories Lynch followed, including the 13 aspects to look into in choosing an investment prospect. You'll be learning from the experiences of Lynch himself and how he dealt with the wins and losses throughout his journey in the stock market.
6. Rich Dad, Poor Dad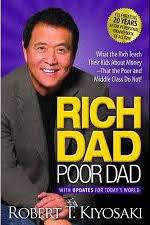 Author: Robert T. Kiyosaki
Price: $5 to $13
Now this one is one of my all time favourite books of any niche!
Robert Kiyosaki is the owner of a company that conducts financial education seminars throughout the world. Aside from authoring more than 26 books about investment and finance, he has developed games designed to educate both adults and children on business and financial concepts.
Rich Dad, Poor Dad is probably one of the most read investing books out there, having sold more than 27 million copies worldwide. In the book, Kiyosaki reiterates how the poor and the middle class remain in their position because they work for money, while the rich invest in their education and learn more about financial matters.
The book advocates investing in a mix of real estate and stocks to produce consistent cash flow to investors, all while benefitting from the appreciating value of the assets. The basics of establishing a business and how to handle taxes are also discussed here.
Rich Dad, Poor Dad is generally an easy read that lets you easily grasp concepts in handling personal finance. It will teach you how to be a businessman, an investor, and an entrepreneur at the same time to achieve the financial freedom that everyone aspires to one day have.
7. The Essays Of Warren Buffett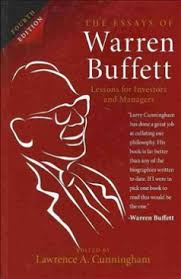 Author: Lawrence Cunningham
Price: $27
Who hasn't heard of Warren Buffet? He's just one of the wealthiest persons in the world with a net worth of more than $87 billion. This business magnate has made a name for himself as one of the most successful investors of all time.
In this investing book, you'll learn from the shareholder letters and experiences of Buffett in running his multi-billion-dollar investment company, Berkshire Hathaway. The book's author has compiled the letters from the company's humble beginnings back in 1965 up to the giant it has become in 2014. The contents have been arranged by theme to give readers a deeper understanding of Buffett's insights in his investment and decision-making strategies.
Reading the thought process of a renowned, self-made investor is definitely not a waste of time. You'll learn how Buffet runs his business and how he chooses companies to invest in. The lessons you'll learn from this book can be applied not only in your investment decisions but also in your daily personal life.
8. The Four Pillars Of Investing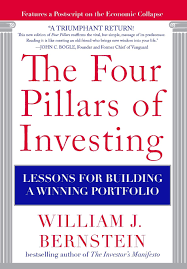 Author: William J. Bernstein
Price: $22
Bernstein is a financial theorist with works focusing on the modern-portfolio theory (MPT) – a framework wherein you assemble a portfolio that will give you maximum returns for a certain level of risk. The MPT can be considered an expanded version of investment diversification. His book, The Four Pillars of Investing, discusses the theory in detail along with other factors that affect your investment strategy.
According to Bernstein, the four pillars of investing are theory, psychology, history, and business. His book echoes the fact that no one can beat the stock market, no matter how sophisticated or experienced you are in investing. Still, Bernstein will teach you how to craft a balanced and profitable portfolio that will give you a winning investment in the long run.
This investing book will help you appropriate your finances into different investment vehicles by optimizing risk management methods. You'll learn a lot about how to shield your assets from drawdowns that usually destroy the portfolios of even the most seasoned investors.
9. The Intelligent Investor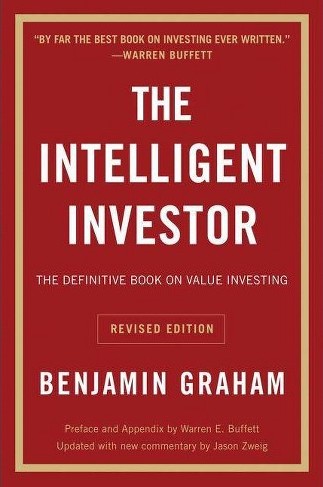 Author: Benjamin Graham
Price: $13 to $21
Benjamin Graham is one of the most significant investors of all time. After he lost all his investments in the stock market crash of 1929, he began to sharpen his skills in analyzing securities. He then laid out the foundations of value investing which is about focusing on the intrinsic value of a stock, regardless of its price. This revolutionized the way people view the stock market from being a speculative investment vehicle into something that can be interpreted with fundamental analysis.
The Intelligent Investor discusses how to look at stocks for their long-term performance, how to protect your investment from losses, and how to become disciplined in chasing profits. The book explains how sticking strictly to an investment formula will make you profitable in the long run, since the market can be irrational in the short-term timeframe.
This book is for you if you want to understand how to look for undervalued companies that made Graham and the likes of Warren Buffett famous.
10. The Only Guide to Alternative Investments You'll Ever Need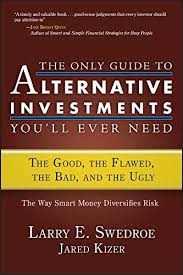 Author: Larry E. Swedroe and Jared Kizer
Price: $21
The investing book discusses a wide range of investment options aside from stocks, bonds, and bank certificates of deposit. The investment vehicles are categorized under four buckets: the good, the bad, the ugly, and the flawed. You'll find a comprehensive explanation of how and why the authors classified each investment option as such to give you a better idea of where to put your hard-earned money.
Aside from defining which assets are good to add to your portfolio, they also discuss the traps that financial marketers use to entice potential clients. Taxes, costs, and inflation are also tackled to give you a holistic perspective in selecting the alternative asset fit to your situation and capacity.
Portfolio diversification is one of the core concepts investors must learn. This book will help you understand your options without spoon-feeding you the asset to purchase. After reading this, you'll be able to analyze the attractiveness of the different asset classes and select the reasonable choice to allocate your funds into.
11. The Only Investment Guide You'll Ever Need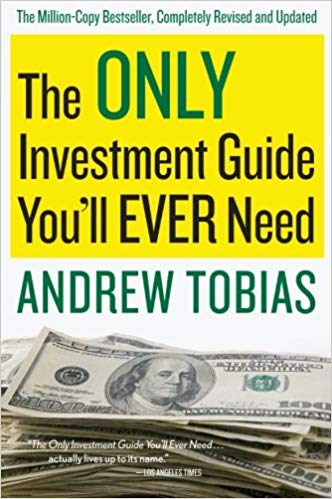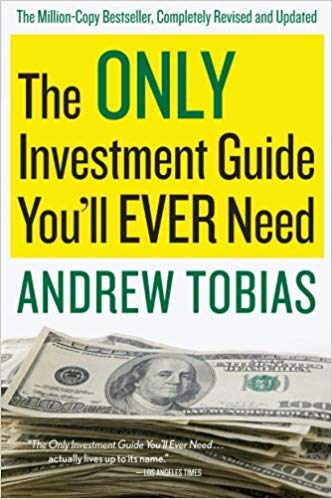 Author: Andrew Tobias
Price: $12
Andrew Tobias is an American writer who has written extensively on topics like investment, insurance, and politics. Even though he has never held a job in the financial industry, the tips and guidance he offers to investors with limited capital are practical and easy to understand.
The book is a light read unlike other investment books heavy on terms that you'll feel overloaded with info at the end of each chapter. But don't think the book isn't informative because it really is. Tobias simply employs a writing style that mixes humor and investment information in a way that's easy to absorb.
Inside the book, you'll find the basics of investing, the kinds of investment options available to you, the foundations of personal finance management you need to hone, and tax strategies to maximize your profits.
If you're looking for an investing book heavy on the technical stuff, this might not be the best read to get. However, if you want to get a good introduction to the world of investing, you can easily read this book in one sitting.
Summary – The Best Investing Books
So there you have it folks, 11 of the best investing books that are all amazing reads. The real secret to wealth, as you will learn from reading these books, is acquired in the art of investing your money. There are many different investment vehicles. You may choose compounding your wealth with dividend investing. Or perhaps Kiyosaki's favourite – real estate. Either way, investing is a MUST, so you best get learning straight away.
Struggling to invest because you don't have enough spare cash? Check out HOW TO MAKE MONEY WITH NO MONEY or if you have a bit more capital and want to making a full time living online then read HOW TO MAKE MONEY FROM HOME